Please SHARE! April 14 to 29
Open Wed.-Sun. 1 to 8pm.
Closed Mondays and Tuesdays.


The Skaggs/TekVenture Vintage Vacuum Pop-Up Museum (and Alien Invasion)


Over 160 antique vacuum sweepers from the late 1800's to late 1900's on display.
Planning a live performance of "Invasion of the Vacuums of Outer Space", last weekend, April 28 & 29 at 3pm -- Check back for updates on that.
See the News-Sentinel photos & article on our exhibit!
See the alien invasion photo story at www.tekventure.org.

April 14 - 29, 1 to 8pm - Closed Mondays and Tuesdays.
Museum and show are FREE! (But bring money for the snackbar!)
TekVenture, 1550 Griffin St., Ft. Wayne ~*~ www.TekVenture.org

Join the cast of the play by contacting Jeannette Jaquish at 260 750-9013 or ecstatictheatrics@yahoo.com.

-=-=-=-=-

_*_*_*_*_*_*_*
A New Charter School is coming to Fort Wayne!

Academics mixed with Hands On Activities.
- Teaching the standards using exciting history & science story/facts, practiced in action games and quests.
- Kids learn life skills and problem solving. Do tools, dance, music, business, gardening, cooking and construction.
- Starting with 2 grades, expanding to K-5th grades.
- Day School & Evening School!
- Bus rides for most students, plus weekly field trips.
- Planning for the 2019-2020 school year.
- Complying with ALL public school regulations.
- This is a FREE charter school education.

_*_*_*_*_*_*_*



VideoActive Video & Photography
Movies, commercials, events...
Great scripts and camerawork
Aerial: High resolution drone video and photography
Multi-camera shoots, studio or on location
Events, live and scripted shows, commercials, instructional
We love working with children: parties, plays, days in your life
Video editing and tweaking
In depth conversations with you to figure it out


Past Shows of Ecstatic Theatrics

and

Past shows of The Firehouse Theater




My History:
Before starting Ecstatic Theatrics, I ran the Firehouse Theater in Fort Wayne for 3.5 years, producing 78 shows/305 performances, until closing Feb. 2010. Since then I produced "Don't Look in the Lake" at Fright Night 2011, "The New Wizard of Oz Musical" at the University of St. Francis and the Main Library auditorium, "Harry Potter and the Obnoxious Voice ~ the sssPOOF!" at Franke Park, and a Christmas show at the Main Library in 2012.
In 2013, I did "Slipperzzzz! Cobb and the 12 Dancing Princesses" at Cinema Center.
In 2014, I produced three plays at the Red Barn Theater in Tucson, AZ: "The New Musical Wizard of Oz", "You Don't Bring Me Flowers Anymore" and workshopped a new science fiction script.
See details at HISTORY.

*QUESTIONS? -- CONTACT Jeannette Jaquish at 260 484-5946, or 260 750-9013, or at ecstatictheatrics@yahoo.com.

-=-=-=-=-=-=-=-=-=-=-=-

In 2014, I visited family in Tucson and produced 3 plays at my mother's Red Barn Theater:




-=-=-=-=-=-=-=-=-=-=-=-=-=-=-=-=-=-=-
Our Last Fort Wayne Production
-=--=-=-=-=-=-=-=-=-=-=-=-=-=-=-=-=-=-=-=-=-=-=-

"The script is witty and there were several laugh-out-loud lines."
-- Jen Poiry's Curtain Call review in Whatzup? -- (scroll 90% down)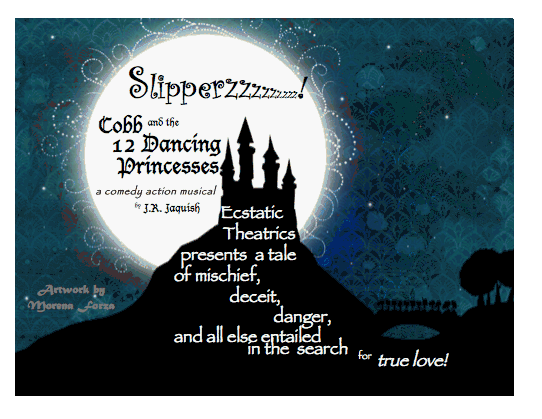 OUR LATEST FORT WAYNE SHOW:

"Slipperzzzzzzzzz! ~ Cobb and the 12 Dancing Princesses"
a comedy action musical by Jeannette Jaquish.
Music by Kevin MacLeod, Tchiakovsky, and Camille Saint-Saens

A starry-eyed cobbler escapes his big-toothed small town girls to search for a princess,
rescues a forest witch from bandits and learns of 12 princesses who mysteriously disappear every night,
wearing their shoes to tatters.
Becoming the castle shoemaker, he follows the wily princesses to their
enchanting, dangerous rendezvous.

PERFORMANCES WERE: Sept. 7, 14, 21 and 28, 2013, at 11am,
at Cinema Center, 437 E. Berry
Tickets were: $6.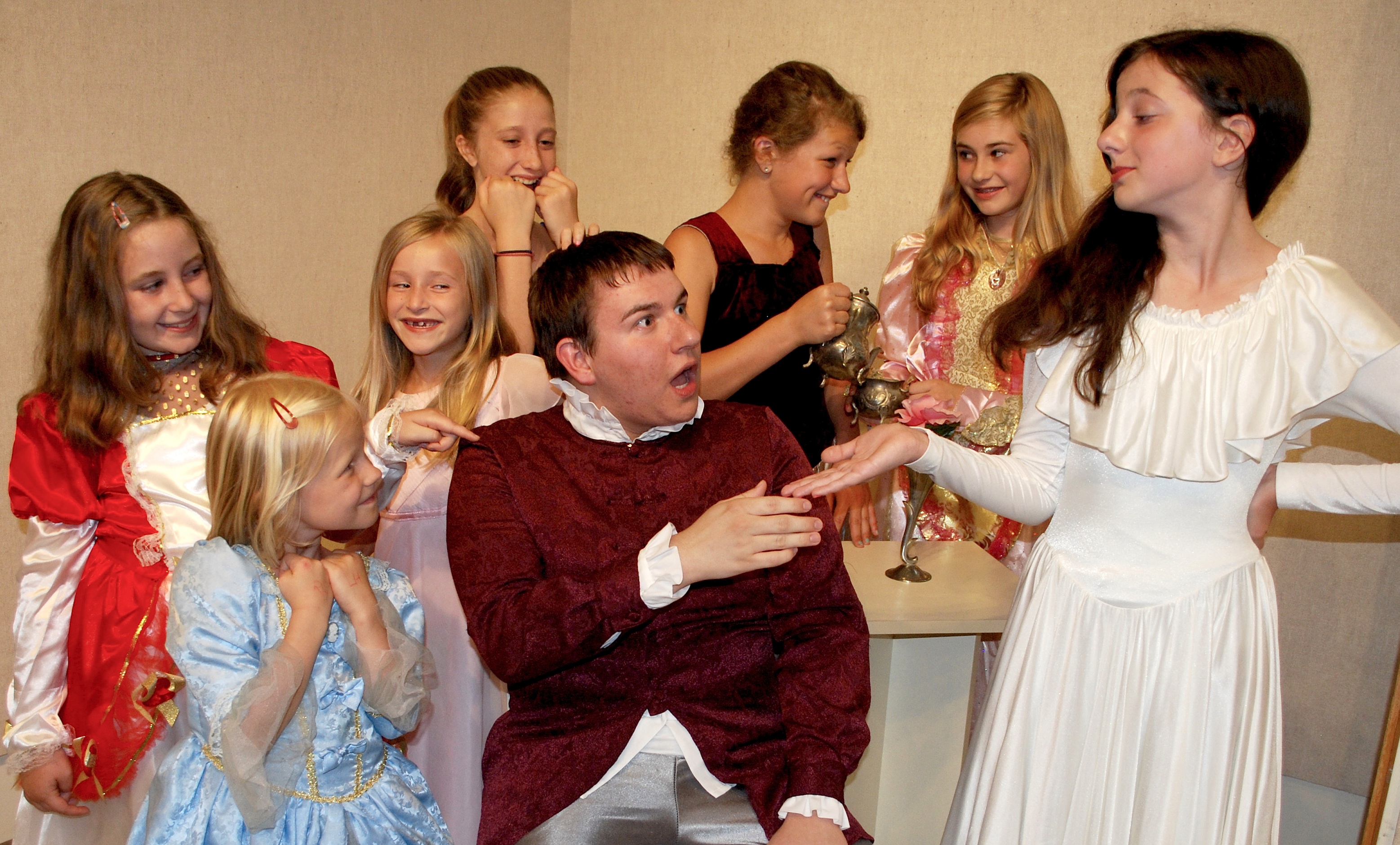 Instead of observing the sneaky princesses who wear out their dance slippers nightly, Prince Haagen (Brandon Johnson) is distracted by the wiles of Princess Jonquil (Chloe Cameron) while two of her sisters (Paige Trammel and Anna Boeglin) pour sleeping potion into his drink as other sisters (L to R) Autumn Byers, Katie Trammel, Elaina Blacketor and Carolann Byers laugh in anticipation of a night of dancing.



"Those Slippery Sleepy Princesses" - Director's Notes



QUOTES from the 9/12/2013 Whatzup's Curtain Call review by Jen Poiry:

"... some truly heartfelt moments",
". . . ties up loose ends the traditional oral folktale left dangling"
"The cast did an amazing job . . ."
" . . some laugh out loud lines."
"The songs were funny and catchy. . . "


About the actors:

"excellent comedic timing"
"sardonic facial expressions"
"pompous and despotic without losing his fatherly vulnerability and charm"
"captures a range of emotions, from annoyance to kindness to love-struck angst"




See Jeannette Jaquish's scripts at www.theaterfunscripts.com.