Please SHARE!

Ecstatic Theatrics' next performance of "The Wizard of Oz" will be at the Red Barn Theater in Tucson, Arizona.
We have not moved, it's just a visit, but I am curious to see if Tucsonans will attend more than Fort Wayners.
Click here for Audition Info.
-=-=-=-=-=


Rest in Peace, Chase Collier
Chase Collier is the tall boy in the center of this photo, playing Peter Cratchit in "A Christmas Carol" in 2009.
Chase died November 20, 2013 at the age of 17.
Chase was a lively, smiling, distractable, good natured, restless, tough, emotional, rebellious, loyal young man. I can see his face clearly in my memory, his crooked smile, his look askance at noisy girls, his polite ways with me. He felt things strongly, anger, love, longing, frustration, adventure and joy. He would have grown up to do great things and I am glad I saw him do some really good things. I will miss him.
Chase performed in "A Christmas Carol" as Peter Cratchit and the Tavern Cook, in "It's a GOOD Life" as the boy who dared speak the truth to the omnipotent child, as the smart aleck boy in "Don't Look in the Lake" and in "The Wizard of Oz" as an Emerald Citizen and Winky Guard. He was in the cast of "Slipperzzzz!" as listed below but had to drop out when his address changed. Chase was very responsible about getting to rehearsals and learning his lines. He got into trouble backstage because he wasn't used to taking commands from the female stage manager and because younger girls would tease him constantly, he was good looking and when they hit him, he would chase them. Chase was tall for his age and I had to remind others that he wasn't immature, he was three years younger than he looked. He had a big heart. When he had to drop out of "Slipperzzzz" he didn't call or email, he came in person to apologize to me and explain. I can see him so clearly in my memory, in many moments of distinction, such as when he told my daughter to watch her language. That was funny. Goodbye, Chase. - Jeannette Jaquish



--=-=-=-=-=-=-=-=-=-=-=-=-=-=-=--
To buy GRINCH DVDS of the LADA performance, please purchase at LADA.
They have the DVDs and take the money.
THANKS!
-=-=-=-=-=-=-=-=-=-=-=-=-=-=-=-=-=-=-
-=--=-=-=-=-=-=-=-=-=-=-=-=-=-=-=-=-=-=-=-=-=-=-
Until Ecstatic Theatrics gets some dedicated people to help, or some guarantee that more than just the family of actors will buy tickets, I will do no more shows.
-- Jeannette Jaquish, director
--=-=-=-=-=-=-=-=-=-=-=-=-=-=-=--


A GREAT SHOW! ~ Now it is over.
Please email ecstatictheatrics@yahoo.com to get on the contact list for our next show.


"The script is witty and there were several laugh-out-loud lines."
-- Jen Poiry's Curtain Call review in Whatzup? -- (scroll 90% down)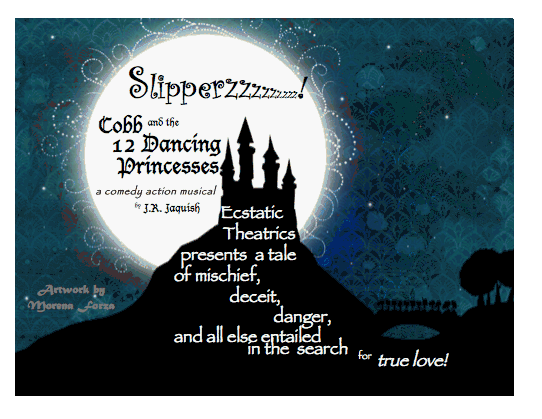 OUR LATEST SHOW:

"Slipperzzzzzzzzz! ~ Cobb and the 12 Dancing Princesses"
a comedy action musical by Jeannette Jaquish.
Music by Kevin MacLeod, Tchiakovsky, and Camille Saint-Saens

A starry-eyed cobbler escapes his big-toothed small town girls to search for a princess,
rescues a forest witch from bandits and learns of 12 princesses who mysteriously disappear every night,
wearing their shoes to tatters.
Becoming the castle shoemaker, he follows the wily princesses to their
enchanting, dangerous rendezvous.

PERFORMANCES WERE: Sept. 7, 14, 21 and 28, at 11am,
at Cinema Center, 437 E. Berry
Tickets were: $6.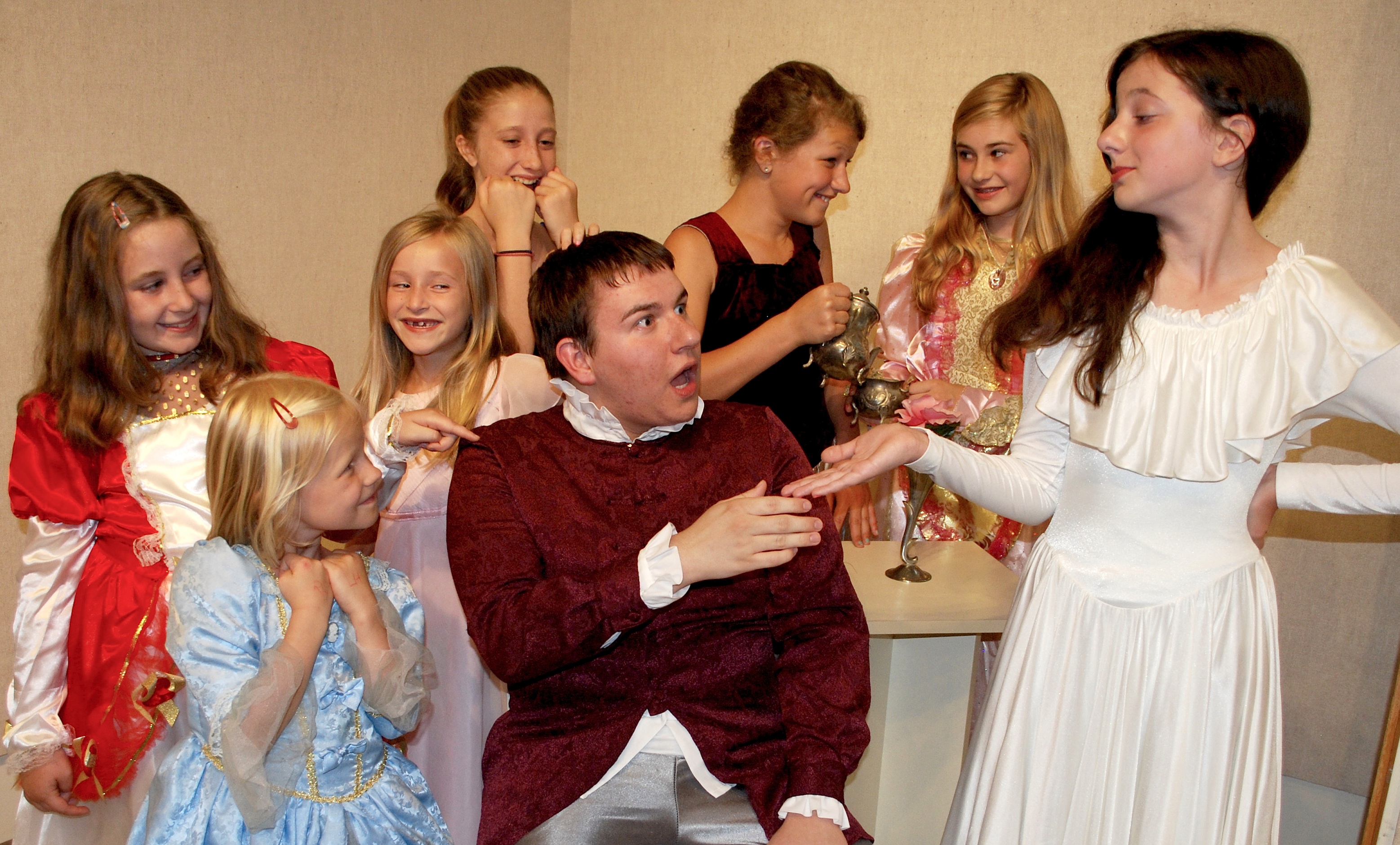 Instead of observing the sneaky princesses who wear out their dance slippers nightly, Prince Haagen (Brandon Johnson) is distracted by the wiles of Princess Jonquil (Chloe Cameron) while two of her sisters (Paige Trammel and Anna Boeglin) pour sleeping potion into his drink as other sisters (L to R) Autumn Byers, Katie Trammel, Elaina Blacketor and Carolann Byers laugh in anticipation of a night of dancing.



"Those Slippery Sleepy Princesses" - Director's Notes



QUOTES from the 9/12/2013 Whatzup's Curtain Call review by Jen Poiry:

"... some truly heartfelt moments",
". . . ties up loose ends the traditional oral folktale left dangling"
"The cast did an amazing job . . ."
" . . some laugh out loud lines."
"The songs were funny and catchy. . . "


About the actors:

"excellent comedic timing"
"sardonic facial expressions"
"pompous and despotic without losing his fatherly vulnerability and charm"
"captures a range of emotions, from annoyance to kindness to love-struck angst"



CAST
The Cobbler
- Sam Smiley

The Townfolk
The Wealthy Farmer - Grant Trammel (Sept. 7), David Sorg (Sept. 14, 21, 28)
Mrs. Swampweather - Jeannette Jaquish (Sept. 7), Valleri Bowman (Sept 14, 21, 28)
The Woodcutter - Chase Collier (replaced due to address change)
The Mayor - Brandon Johnson
The Ugly Girls - Anthony Hayes, Scott Sarrazin, Ross Blacketor, Ary Sakri, Zephyr Jaquish

The Princesses
- AZALEA - Avey Bower (Sept 7 & 14), KateTrammell (Sept 21 & 28)
- BLUEBELL - Elaina Blacketor (Sept 7 & 21), Marianne Schauer (Sept 14 & 28)
- CLOVER - Autumn Byers
- DAHLIA - Kate Boeglin (Sept 7 & 14), Brianna Schauer (Sept 21 & 28)
- FORSYTHIA - Erin Sheets
- HYACINTH - Carolann Byers (Sept 7 & 14), Nina Robinson (Sept 21 & 28)
- IRIS - Anna Boeglin (Sept 7 & 14), Grace Sarrazin (Sept 21 & 28)
- JONQUIL - Chloe Cameron (Sept 7 & 14), Paige Trammell (Sept 21 & 28)
- LILAC - Hannah Schauer
- PRIMROSE - Valleri Bowman (Sept 7 & 14), Sayda Bower (Sept 21 & 28)
- SAFFRON - Michelle Andrews, Sarah
- VIOLET - Katheryne Schauer

The King - Scott Wiley
The Grand Vizier - Kael Bronson

The Bandits
- Grant Trammel, Carolann Byers, Nina Robinson, Scott Sarrazin, Ross Blacketor, Zephyr Jaquish, Chase Collier (replaced)
The Bully Bandit - Anthony Hayes

The Servants
- Brandon Johnson, Valleri Bowman, Sayda Bower, Kate Boeglin, Brianna Schauer, Anna Boeglin, Grace Sarrazin

The Underworld
The Brothers - Brandon Johnson, Grant Trammell, Scott Sarrazin, Zephyr Jaquish, Chase Collier (replaced), Anthony Hayes
Lurk - Ary Sakri
King Mudred - Kael Bronson

-=-=-=-=-=-=-=-=-=-=-=-=-=-=-=-=-=- (Sorry! I can't get this photo upright!)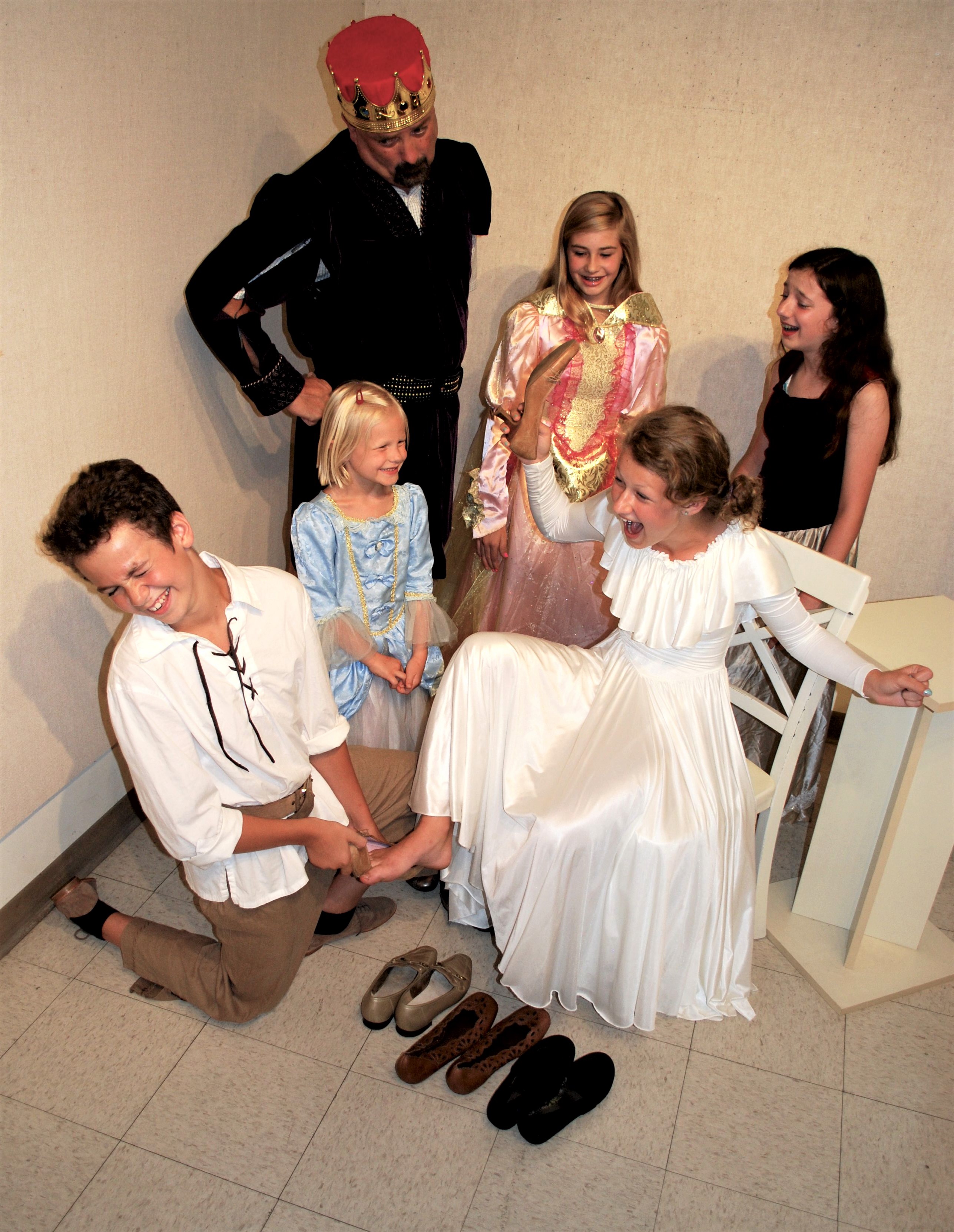 Jonquil (Paige Trammel) smacks Cobb the Shoemaker (Sam Smiley) for embarrassing her in front of her stern father the King (Scott Wiley), and her sisters (Kate Trammel, Anna Boeglin, Chloe Cameron) who think the young boy's crush is hilarious.


SNEAK PREVIEW:

UGLY GIRLS - Cobb! Don't leave us!
COBB - Sorry girls, Someone else will come along.

MAYOR - How can you reject our beautiful HobNobbit young ladies?
FARMER - Each one more beautiful, charming, amusing than...
WOODCUTTER - ... any farm animal!


-=-=-=-=-=-=-=-=-=-=-=-=-=-=-=-=-=-=-=-

KING LEO - It is extremely important, Prince Haagen, that you do not fall asleep. My daughters are smart, charming, wily, little weasels. Do not trust them an inch!

FIRST PRINCE - Um... Yes, Sir.

KING LEO - So much I have done for them! I have invaded smaller countries with my armies dressed as marching bands. I have signed peace accords and then took their royals hostage. I have spread rumors and false evidence to create rebellions that overthrew other rulers so I could more easily conquer them. I kidnapped the most beautiful loving wife to be my children's mother! All this to give my children safety, riches and power! And what do they reward me with? Lies and trickery! Still I love them. I fear one night they will disappear and not come back. It will destroy me.

FIRST PRINCE - Have no fear, King Leo. I will watch them like a hawk, with eagle eyes, circling like a vulture, but not pouncing, and if I see them leaving I will raise the alarm, like a cockadoodle rooster --

-=-=-=-=-=-=-=-=-=-=-=-=-=-=-=-=-=-=-=-

AZALEA - Poor boy. He tried so hard to stay awake.
BLUEBELL - And now he's going to the dungeon!
CLOVER - No he's not. We don't even have a dungeon. Papa is scared of the dark so he's never looked inside.
DAHLIA - It's just the mop closet. A hundred years ago a boy wrote "Dungeon" on it for a joke.

-=-=-=-=-=-=-=-=-=-=-=-=-=-=-=-=-=-=-=-

LURK - There you are! PotScraper you crazy old woman!

OLD LADY - I'm crazy all right! Crazy enough to split your head open if you come any closer!

LURK - Give it back and I'll be gone.

OLD LADY - It's gone! Long gone! I tied it to a squirrel's tail and he ran up a tree. I'm sure he made it into a nice nest. Start climbing if you want to find it. Look for the invisible squirrel!

-=-=-=-=-=-=-=-=-=-=-=-=-=-=-=-=-=-=-=-

BANDIT 3 - Where'd the twit bloody well go?
BANDIT 4 - Left, right and centre! Find him!
(BANDITS feel around in the center of the circle.)
I'm gormless. Where did he go?

BANDIT 1 - It's a bad turn, it is. What if we disappears also?
BANDIT 2 - There's a witch what lives in this wood, that eats children.

COBB (loud Witchy voice) Heehee hee hee! This is my forest! And I'm hungry!

-=-=-=-=-=-=-=-=-=-=-=-=-=-=-=-=-=-=-=-




-=-=-=-=-=-=-=-=-=-=-=-=-=-=-=-=-=-=-=-
ECSTATIC THEATRIC struts its giant puppet stuff at the St. Patrick's Day Parade at Deer Park Lodge, March 17, 2013!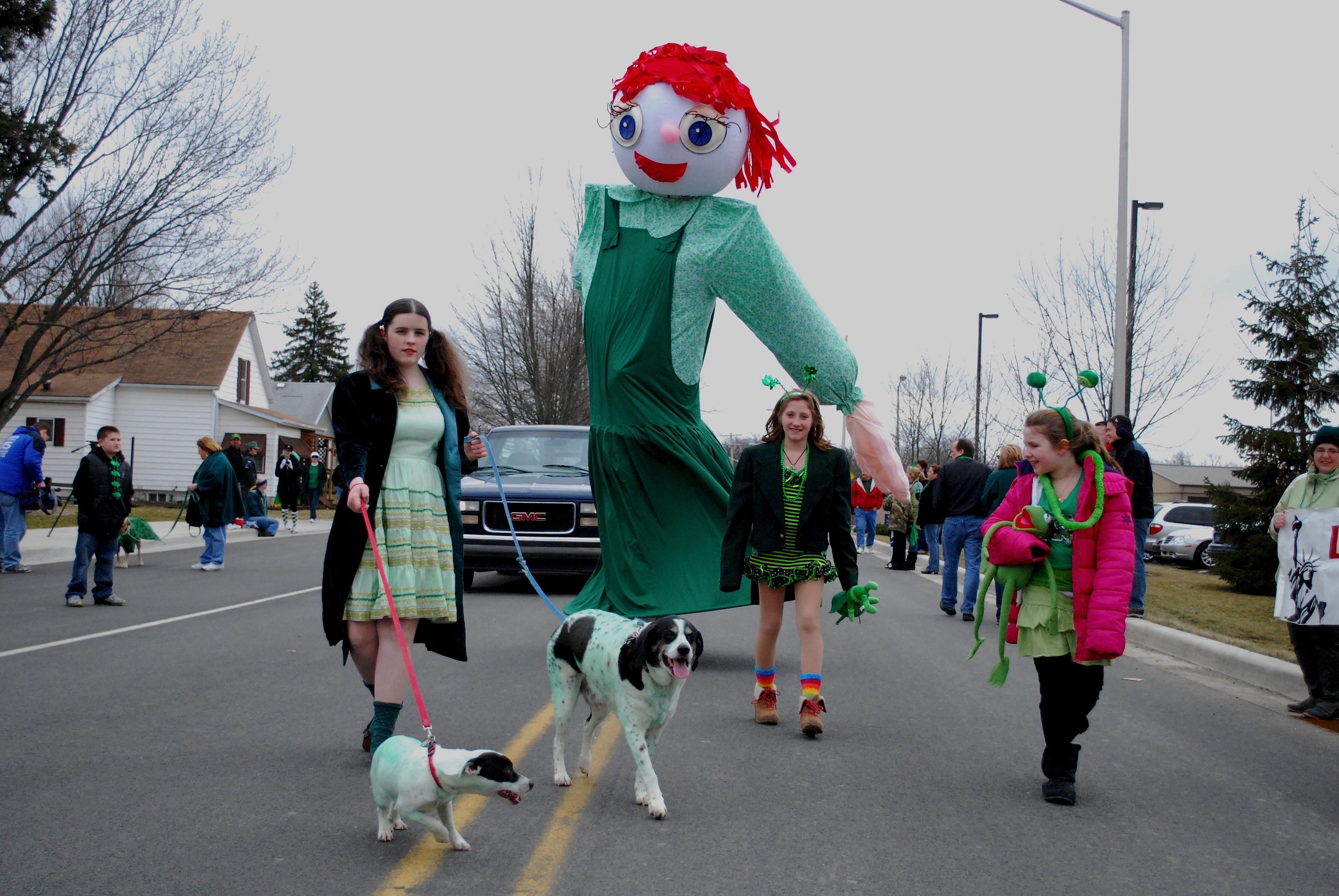 Actresses Autumn and Carolann Byer joined Zephyr Jaquish with green dogs Spot and Amphetrious. Tom Jaquish is inside giant puppet girl. Jeannette Jaquish also marched and shot this photo.





-o-o-o-o-o-o-o-o-o-




Since it began in 2011, Ecstatic Theatrics produced:
-- "Don't Look in the Lake" at Fright Night, Oct 2011
-- "Wizard of Oz" at Library Main Stage March 1, 2 & 4, 2012
-- "Wiz" again at St. Francis South Stage April 28 & 29, 2012
-- "Harry Potter and the Obnoxious Voice ~ the sssPOOF!" at outdoor bleachers at Franke Park, August 2012.
-- "SNAFU in Santa's Workshop" and "Hansel & Gretel and the Falling Christmas Elves" at Cinema Center the Main Library in December 2012.

Four shows in 12 months, just like Youtheatre.

Absurdly Ambitious Next Project?
Wizard of Oz on Location:
I am working on the screen play of a film-style video of "Wizard of Oz" to shoot spring-summer-early fall 2014?, shot in the incredibly beautiful and potentially creepy Franke Park woods, plus other locations for Kansas, Emerald City, Wizard's Throne Room and Witch's Castle.

The script, directing and rehearsals are hard work, but no problem. Been there done that. It is the realistic sets (cardboard scenery won't do it ), and actual buildings that will require great imagination and hundreds of man-hours to attain. A believable Munchkinland in the woods will require days to create, then we carry it home and then back to set up for the shoot.
I also need a competent technical and support crew such assistant directors, audio & camera operators, costumers, set builders, organizers, scouts and so on.

I could delay this project and do it in 2014, but I would like to do it this year. I have a history of not giving myself enough time to do a project right -- everything takes 3 to 5 times as long as I expect, but usually I was doing most of the work. If I had competent help, if I could hand a sketch to someone and a pile of materials and they put it together, if I told a group of actors to come back on Friday memorized and they did, if people were out scouting the indoor locations for me, well, it could work.

I am working on a shooting script and if I can get everything figured out: script, camera shots and locations, effects such as flying monkeys and witch, Wizard's giant head, castle corridors, huge Emerald City on a hill, Glinda appearing, TORNADO!!!! -- If I can figure out how we'll do EVERYTHING, then it will be a go. Because if one thing doesn't work, the whole thing can't be finished.

I know I can get actors. What I need assurance of is a technical video and theatrical crew, skilled, dependable, available. I will be able to pay the crew, because this is intended to be a mass distributed production. Maybe not on movie screens but DVD distribution. I write good scripts. The rest is the hard part.

If you are interested in helping, please email me at ecstatictheatrics@yahoo.com or call me at 260 750-9013.

Thanks! -- Jeannette Jaquish

-=-=-=-=-=-=-=-=-=-=-=-=-=-=-=-=-=-=-

Our Most Recent Show:

Dec. 15, 20* & 29, 2012!

Two Modern Children's Holiday Classics!


SNAFU in Santa's Workshop!
and
Hansel and Gretel


and the

Falling Christmas Elves!




* The dopey duo of Hansel & Gretel drive Santa's Elves to madness and send their parents into The Awful Offspring Protection Program. Only the Narrator knows a happy ending is in store!
-=-=-=-=-=-=-=-=




*SNAFU in Santa's Workshop: Will Quigley's invention save Christmas even after it is short circuited by hot cocoa??? It's the Raucous Reindeer to the Rescue -- so you'd better RUN!
--- FREE SANTA PHOTOS after the show! We shoot 'em and email them to you free!

Shows $4:
Dec 15: Cinema Center off Clay, between Berry and Main: 11 am
Dec 20: Main Library Meeting Room A: 7 pm --*Special Needs get in FREE!
Dec. 29: Cinema Center: 11 am


After the 1 hour show: FREE PHOTOS with SANTA! We shoot them and email them to you free!
TICKETS: $4. Free for Special Needs Dec. 20 at the Library show.

NO RESERVATIONS necessary. Questions??? -- Call 260 750-9013!



CAST:
HANSEL & GRETEL and the FALLING CHRISTMAS ELVES
READER - Michelle Bonahoom
HANSEL - Walker Andrews
GRETEL - Sona Andrews
STEPMOM - Brenna Watson
FATHER - Brandon Johnson
WITCH - Brittney Bressler -Dec 15, 29. Jeannette Jaquish -Dec 20.

ELF 1 – Bossy - Nina Robinson
ELF 2 - Smelly - Scott Sarrazin
ELF 3- Sassy - Grace Sarrazin
ELF 4 - Clumsy - Ani Andrews
ELF 5 - Narcolepty - Emily Dini
ELF 6 - Whiny - Emma St. Peters
ELF 7- SNEEZY – Emma Robinson

FAIRY DOG MOTHER - Amber Antonios
FAIRY FROG MOTHER - Megan Antonios

------------------------------------------

SNAFU in SANTA'S WORKSHOP
Reader - Jeannette Jaquish
Elves: --1 Scooter - bossy- Amber Antonios
--2 Twinkle - cutsey- Megan Antonios
--3 Quigley - nerdy- Sona Andrews
--4 Snicker - sarcastic- Ani Andrews
Santa - Brian Stoner
Rudolph - Grace Sarrazin
Reindeer 1 – Dasher - Scott Sarrazin
Reindeer 2 – Dancer -Emma St. Peters
Reindeer 3 – Prancer -Nina Robinson

Inside Duplicator: Toy Thrower - Walker Andrews
Inside Duplicator: Box Shaker - Emily Dini

Sleepy Pajama Child -Walker Andrews
Excited Pajama Child -Emily Dini

Backstage Manager - Brittney Bressler
Smoke Machine - Brenna Watson
Duplicator FX Sounds- Michelle Bonahoom
Duplicator FX Lights - Brandon Johnson
Voice of Mom - Michelle Bonahoom
Voice of Dad - Brandon Johnson
Set Changers - Brenna, Emma R, Michelle, Brittney B/


o-o-o-o-o-o-o-o-o-o-o-o-o-o-o

------To see our past shows, please go to History!


=-o=-o=-o=-o=-o=-o=-o=-o=-o=-o=-o=-o=-o=-o=-o=-




VOLUNTEERS MAKE THEATER POSSIBLE!

CREW & HELPER Positions:
Assistant Directors - take on a scene or group of actors in rehearsals, help decisions and work of the production
Lighting Tech - learn to run the Library stage light board
Audio Tech - learn to run the Library audio board
Stage Crafters - set up scenery and figure out set changes
Helpers - at auditions, rehearsals, backstage during shows - to fit your schedule
Publicity Helpers - take flyers to school, church, school
- Call a few businesses to offer discounts for the employees
Tech Helpers
- Making scenery and props, scouting purchases, organizing storage
Costume Helpers
- Measure actors, help actors try on costumes, assemble costume sets and label them and their storage area
- Give opinion on costume design
-Sew if you have the skill
Volunteer Organizer
- Take each volunteer's availability schedule and schedule them into the production. Send the schedule to volunteers.


CLICK to VOLUNTEER!

~*~

Filming Wizard of Oz on Location in 2013!
Postponed one year to get everything ready.


Munchkin, Scarecrow, Tin Man & Lion scenes will be shot
in the beautiful, spooky
Franke Park Woods.

Scenes in Kansas, Witch's Castle and Wizard's Throne Room to be shot at other locations.
Filming over the Spring, Summer & early Fall of 2013.

Auditions beginning of April 2013.
We need volunteers to help. Also hiring underpaid crew.
Please call Jeannette at 260 484-5946 or email ecstatictheatrics@yahoo.com.

See Jeannette Jaquish's scripts at www.theaterfunscripts.com.
See Jeannette's old Firehouse Theater website.