(c)2020 Jeannette Jaquish --- Click on Logo for Twistful Page!
Ecstatic Theatrics has begun the work of turning the field in front of TekVenture into a theatrical fantasy science nature park with a maze, story tours, quest challenges, and a wide concert and event flat.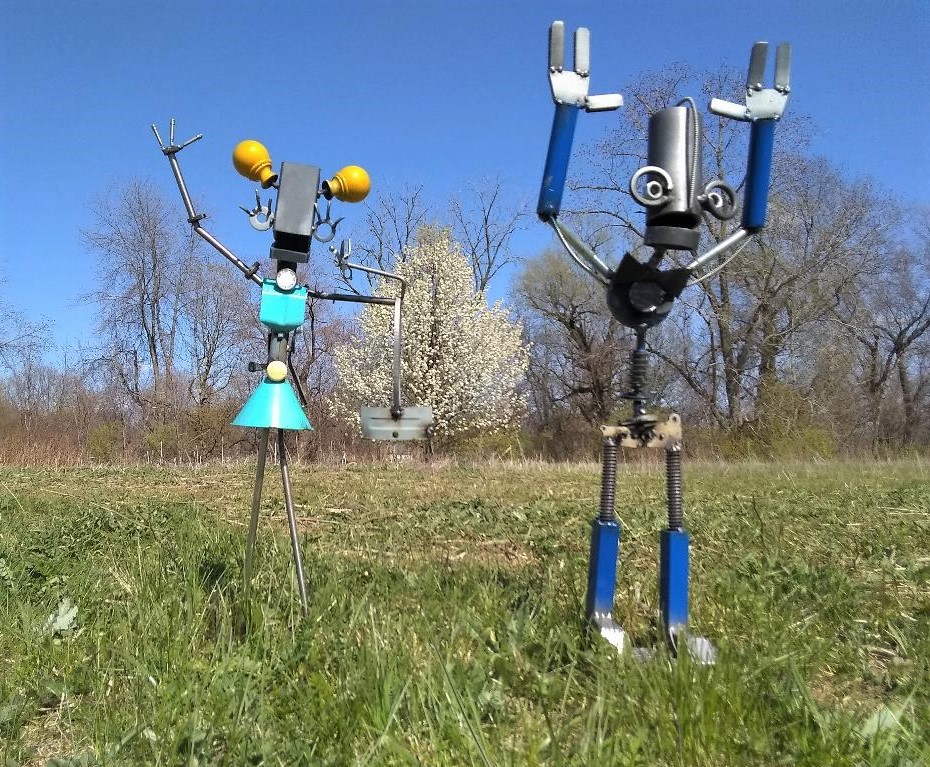 The goal is to earn money for improvements to the building.
We need volunteers to brainstorm, work and act, and people willing to buy an affordable ticket to enjoy it
Please check out Twistful Meadow Designs if you want to help.
Questions? -- Jeannette Jaquish 260-750-9013 cell, ecstatictheatrics@yahoo.com.
A NIPSCO grant funds wildflowers & a playground!



ArtBotz by Levon Vojtokofsky.

===========================================================================

WHAT FOLLOWS ARE OUR ONSTAGE THEATRICAL PRODUCTIONS

A weird and fun time was had at the
Holiday Happenings and Krampus VS Santa Battle Op
Dec. 14 at TekVenture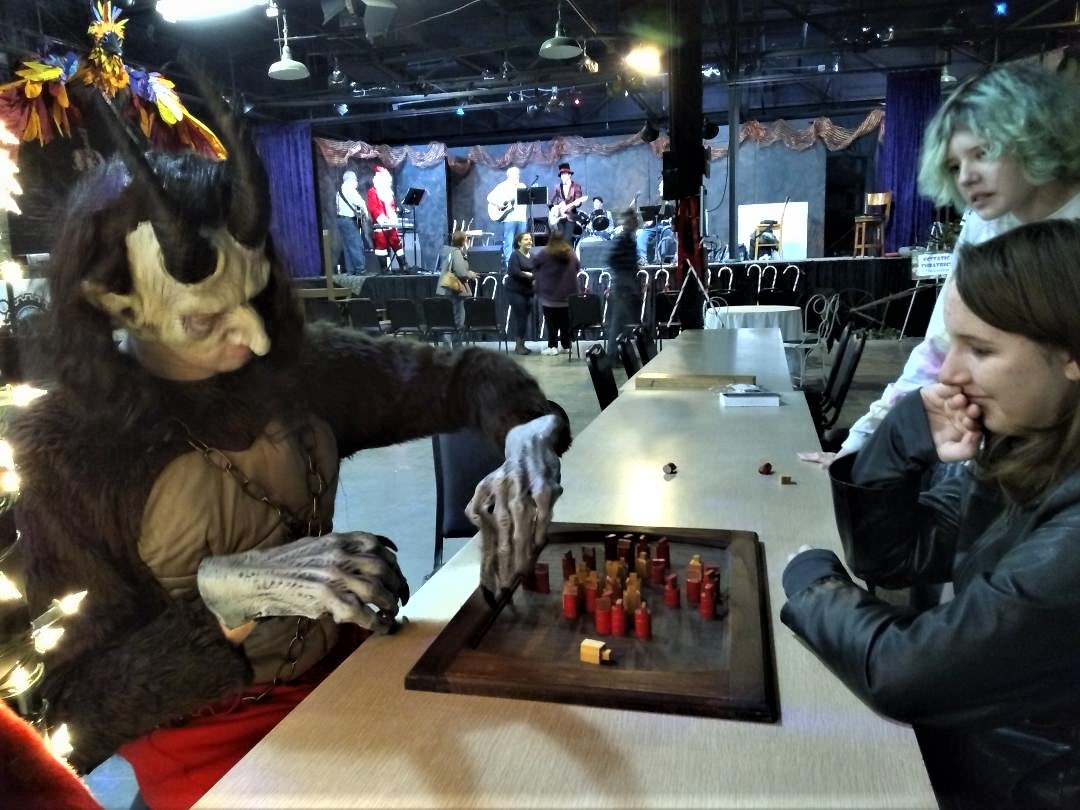 Charlotte Glaze, 13, won a game of Hnefatafl, an ancient Irish, Norse, English game, against Krampus, an ancient Norse nemesis of Santa. Charlotte had the advantage of real fingers and being on her school's chess team.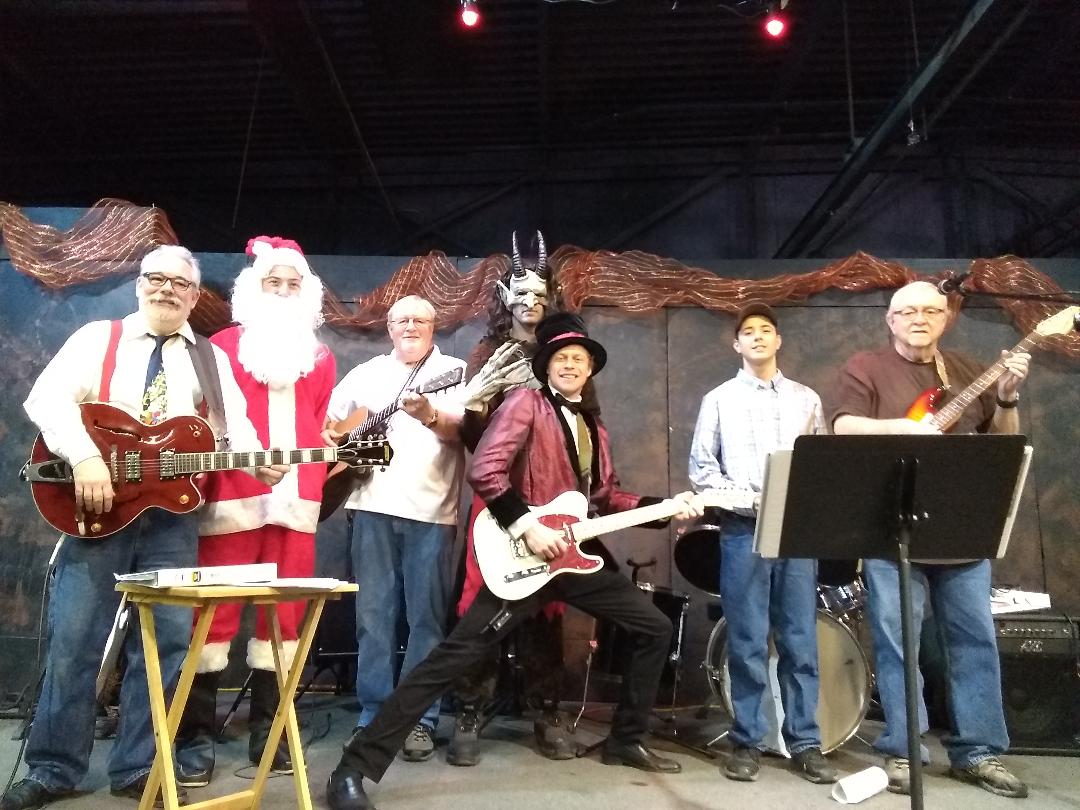 The veterans band The Annex jammed with Santa (Evan Snaufer), The Mayor of Maker Town (Hunter Evans), and Krampus (Dylan Senff) whose claws cause him to shred instruments so he joined the audience instead.
Dylan played Snape in our Harry Potter parody in 2017 and Evan played Lucky the Leprechaun in 2018. Both have done lots of professional quality theater work at other theaters. Hunter is a theater junior at PFW.


------------------------- OUR MOST RECENT SHOW: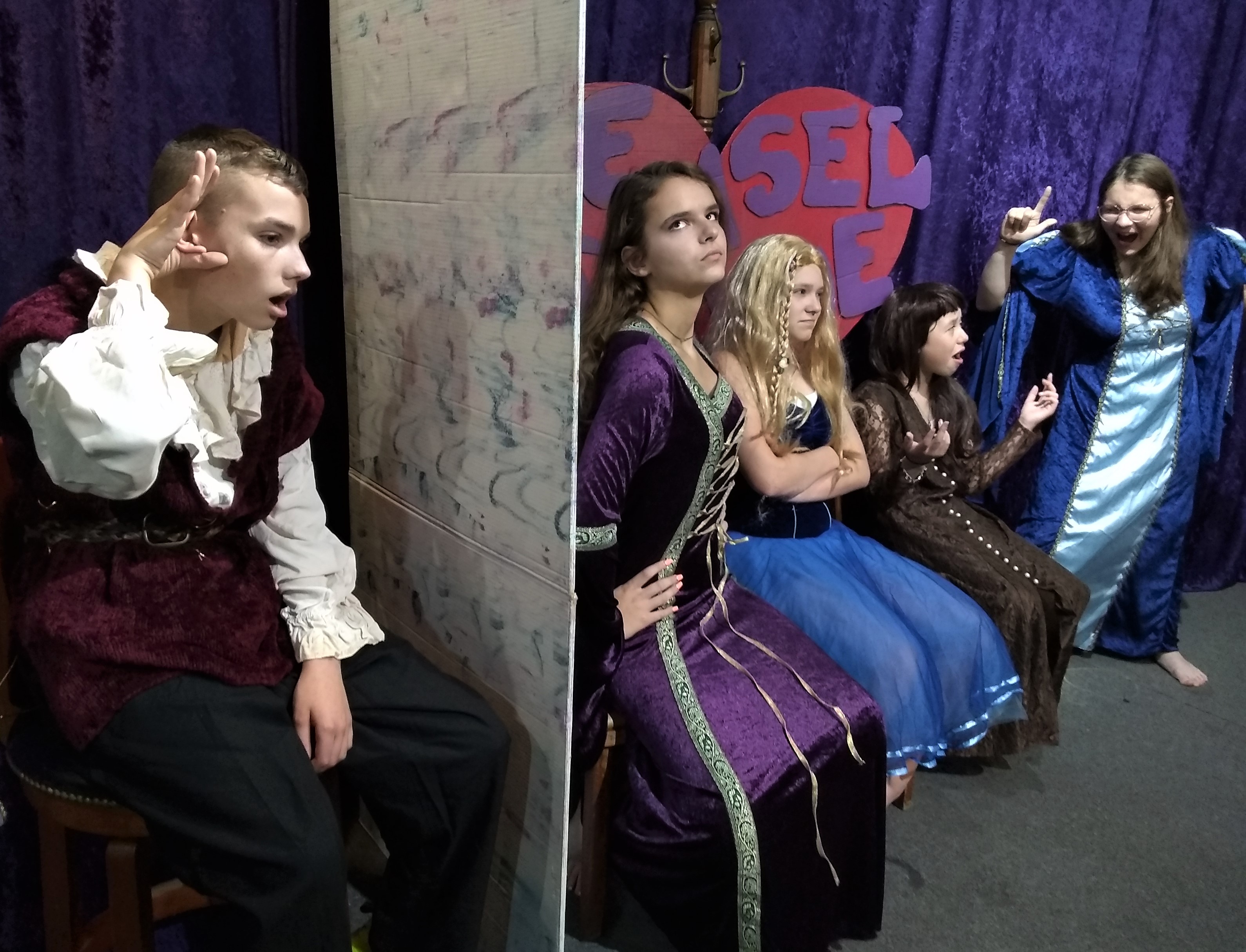 Aug. 10 & 11, 2019
"The Damsel Game"
Prince Charming tosses questions to Cinderella, Snow White and Rapunzel to pick his Dream Date . . . . Nightmare!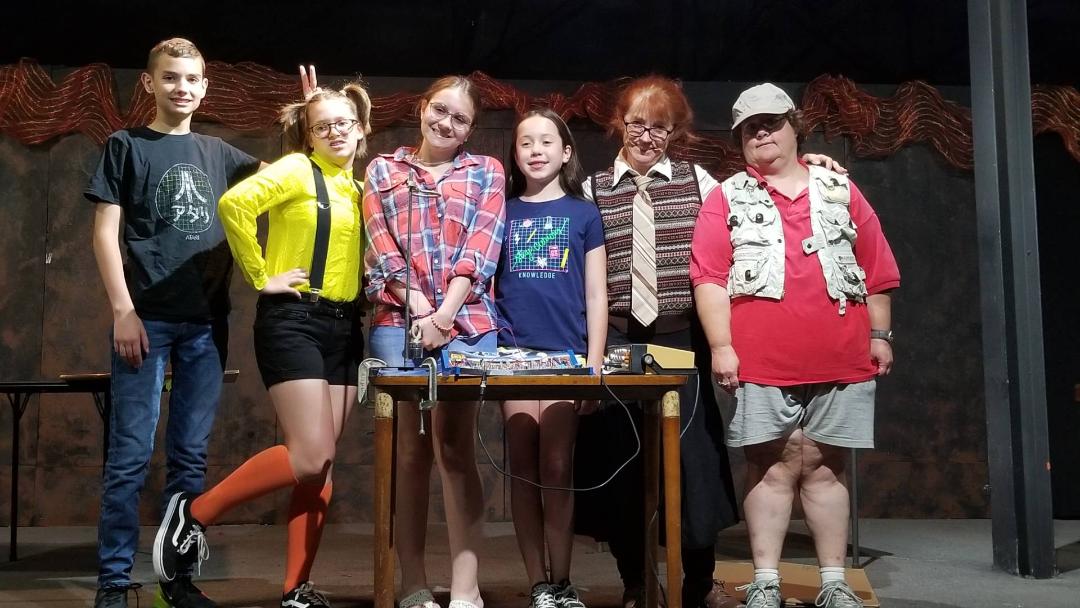 "Strange Time at the Science Fair"
The little science nerd says his invention can control time, but the judge can't see it.

After the show we played games and made crafts with tools. ------------------------------------------------------
JOIN TekVenture and PUT ON A SHOW! MAKE $$!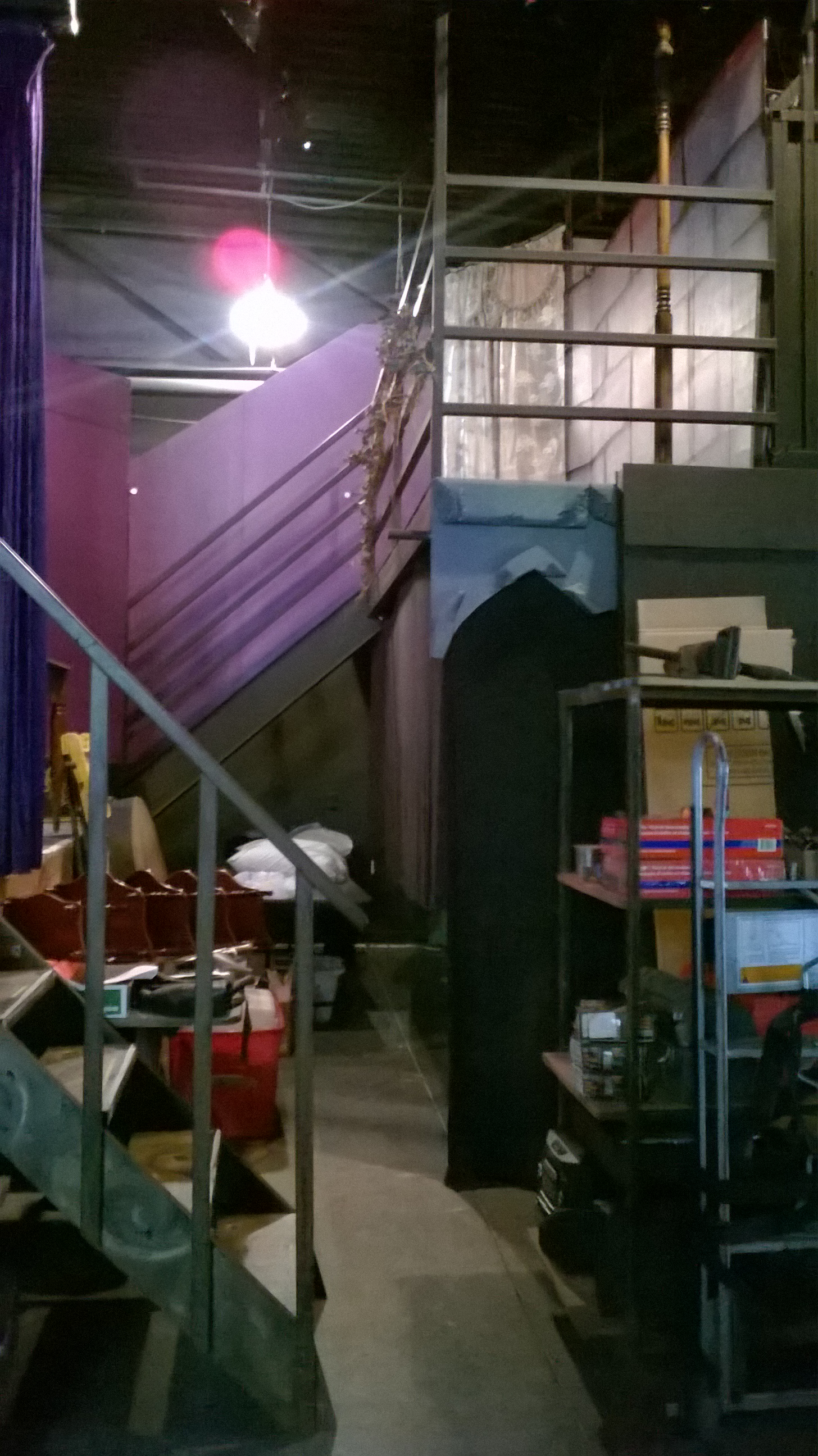 Theater companies struggle to pay rent & utilities on a rehearsal and performance space. TekVenture has a stage that any member may use, sharing and scheduling with other stage users. So far the stage is very under-used for such a wonderful stage!

The TekVenture stage is 41 inches high, 16 ft deep, and 38 feet long. Additionally, it has a sturdy metal balcony, two stairway front exits and modular scenery walls that are easily moved and rearranged using a phillips head screwdriver. It has plenty of lights controlled by a light board behind the balcony in the boys dressing room (because boys don't need privacy), a front purple velveteen curtain that opens and closes with a side pulley. Below the boys' dressing room is the girls', not huge but with enough space for 8 people to change, and 20 to store their costumes and street clothes. The auditorium is plenty big and TekVenture has over 100 padded chair, folding and stackable. The medium large restrooms, parking and entrance are wheelchair accessible. There is storage under the stage for costumes, props and furniture. Besides having a stage, TekVenture is a maker space so it has a wood-working shop (to make sets), a sewing space with a variety of sewing machines, threads and fabric (to make costumes), computers with design software (to make posters, programs and publicity), and a blacksmithing and welding shop (for strong structures). It has a grassy lawn and meadow for outdoor events, and large parking lot.

Members pay a low monthly fee and may use all tools and equipment and materials. You schedule rehearsals and performances, cooperating in a friendly respectful way with other stage users.
Making a Profit: You share profit with TekVenture. Details need to be contractual, but it tends to mean subtracting cost of materials, snackbar foods, and publicity from ticket and snackbar sales. It does not mean paying actors or crew. Sponsor money needs discussion.
The Drawbacks: Actors must be members, (online monthly: $20 student, $30 individual, $45 family) for which besides the stage, they may use all the workshops. Many actors like to go make clay, fabric or wood crafts after rehearsal.
You have to tolerate occasional noise from the workshops. Actors should ad lib to justify strange sounds during performance. And inviting the noise makers to watch the show free instead, is a good ploy. You cannot restrict members from being in the auditorium during performance but you can restrict them from your official audience chairs.

You can gather your theater or music friends into a troupe, or join Ecstatic Theatrics which is currently the only theater group using the stage, besides the occasional festival.

Either way, you should contact Jeannette at 260 750-9013 for a tour of the stage area.

==========

Ecstatic Theatrics forming Professional Crew
Director Jeannette Jaquish is seeking a few people with at least basic theater skills and lots of enthusiasm to form a core paid crew so that Ecstatic Theatrics can do consistently high quality shows
I will pay them myself until money comes in from shows and from that point they will share the profits.
With my stack of scripts and TekVenture's large stage, balcony, curtain, lights, dressing rooms, wood shop, and handicapped accessible auditorium, restrooms and parking lot, dependable crew will be the foundation for great performances.
Please contact Jeannette at
260 750-9013 or
email ecstatictheatrics@yahoo.com .
-=-=-=-=-=-=-=-=-=-=-=-


Our shows in 2018 were:

Who Framed Lucky the Leprechaun?

The Wizard of Oz

SNAFU in Santa's Workshop

-=-=-=-=-=-=-=-=-=-=-=-



2020 - 2021 SEASON

2020 Halloween:
"Auditioning a Ghost" by Sir Arthur Conan Doyle
Gladys wants a ghost to haunt the castle she inherited. Daddy hires a mystic to fake it. What could go wrong?

2020 Christmas:
"Scrooge's Nightmare Before Christmas Carol"
LIST OF CHARACTERS

2021 Spring:
"It's a Wonderful Life"
adapted from Jerome Bixby's award winning sci-fi classic
performed on The Twilight Zone, 1961
and parodied on "The Simpson's Treehouse of Horror II, 1991"
NEED ACTORS age 6 to 76. The omnipotent child may be played by a girl or a boy.

2021 Summer:
July-August 2019: "Don't Look in the Lake"
Lousy food, mean counselors, dead possum art projects, electric fences and hoeing the tobacco fields. And just when the week is almost over, the campfire stories start coming true.
and
Alice in Wonderland!

QUESTIONS? Contact writer/director Jeannette Jaquish at 260 750-9013 cell, or 260 484-5946 home.

-=-=-=-=-=-=-=-=-=-=-=-=-=-=-=-=-=-=-=-=-=-=-=-=-=-=-=-=-=-=-=-=-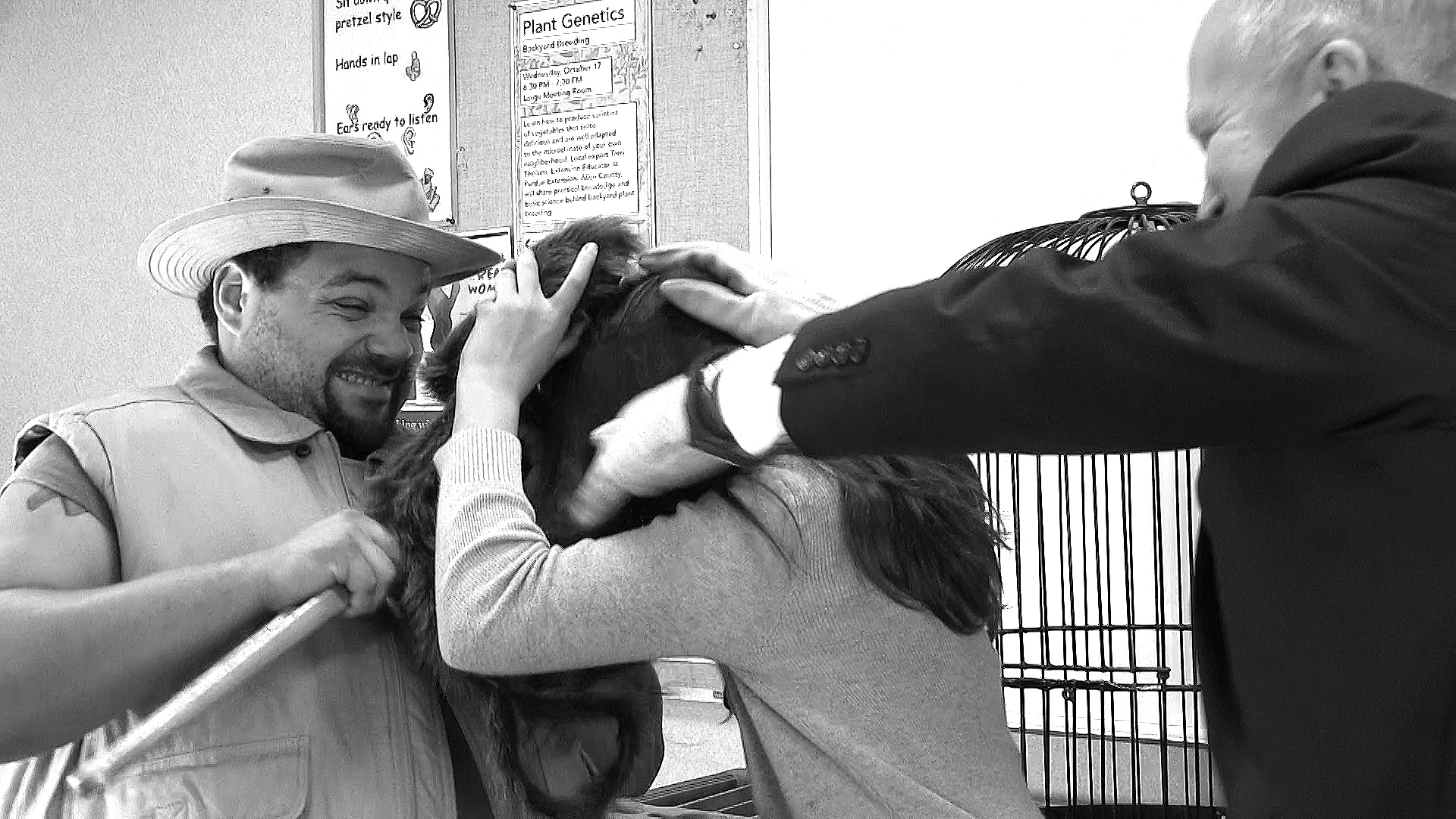 Several of our actors appeared in funny campaign videos I produced.
Gerrymander ReDistrictus - A Hitchcock Parody
Starring: Claudia Eifrid and Isaac Lengacher

See them all Jeannette's online videos (she has plenty more on DVD) at www.Facebook.com/EcstaticTheatricsFW

------------------------------------------------------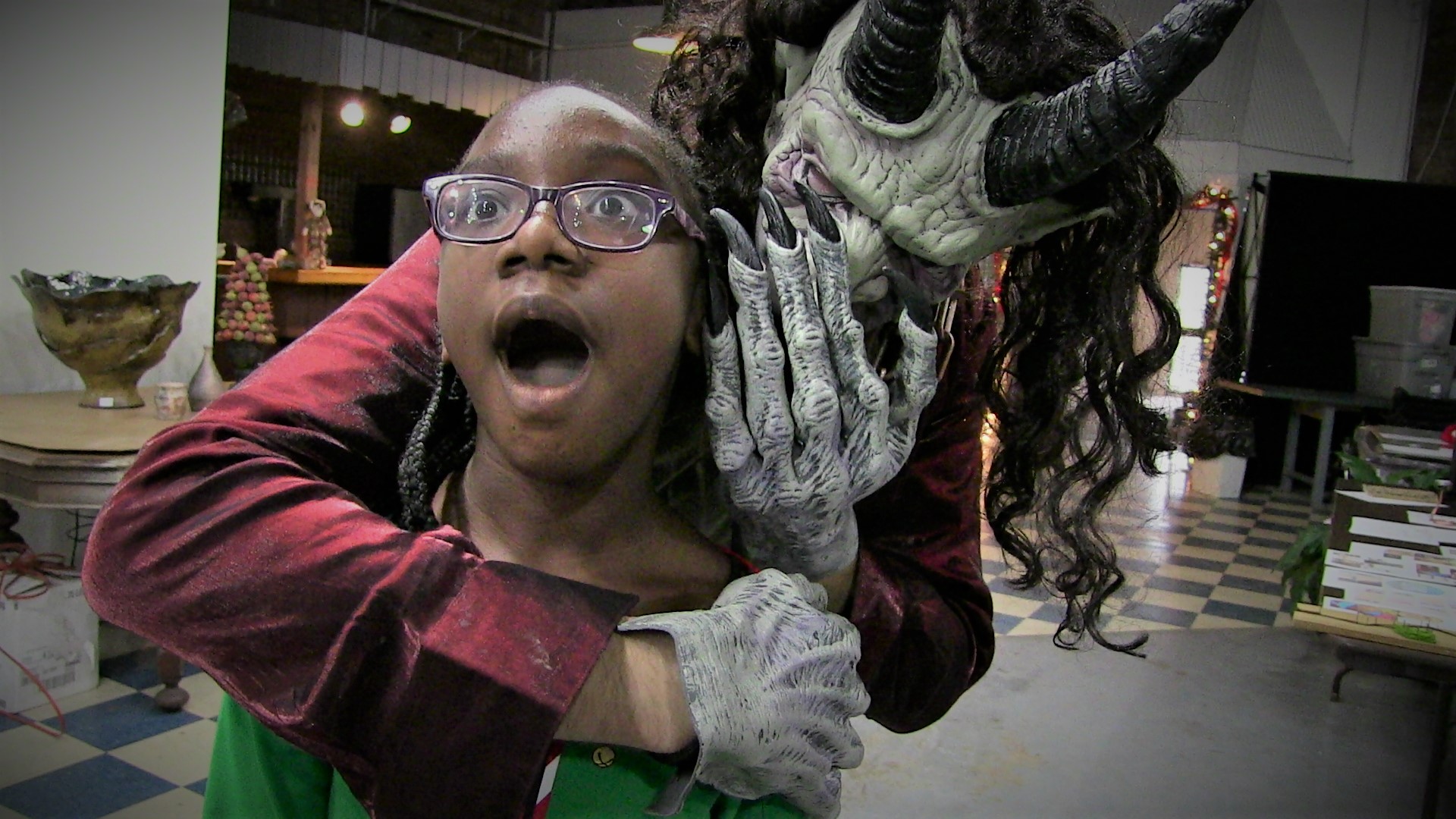 TekVenture Actors & Family Halloween Costume Party
this Sunday, Oct. 28, from 6 to 8pm
at TekVenture, 1550 Griffin St., 46803.

I am bringing "Toto". We will see who still remembers his real name.
TekVenture actors may have already received an emailed invitation, but if not, if you like, you can sign up to bring food or to help at Sign up. Not required.

-------------------------------------------------------


_*_*_*_*_*_*_*

A New Charter School is coming to Fort Wayne!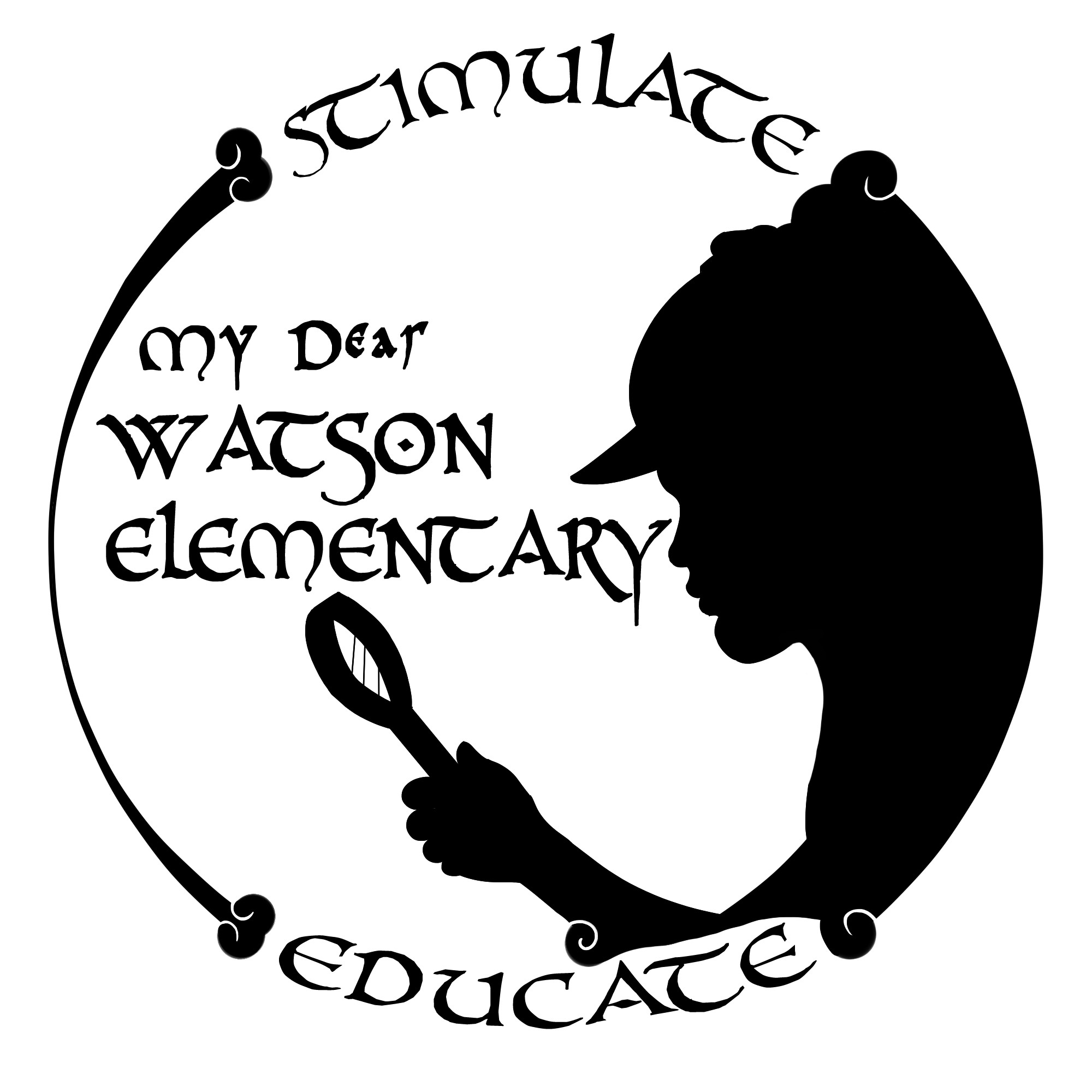 Academics mixed with Hands On Activities.
- Teaching the standards using exciting history & science story/facts, practiced in action games and quests.
- Kids learn life skills and problem solving. Do tools, dance, music, business, gardening, cooking and construction.
- Starting with 2 grades, expanding to K-5th grades.
- Day School 8 to 3pm & Evening School 4 to 11pm! Sports 3 to 4pm.
- Bus rides for most students, plus weekly field trips for every student.
- Planning for the 2020-21 school year.
- Complying with ALL public school regulations.
- This is a FREE charter school education.

_*_*_*_*_*_*_*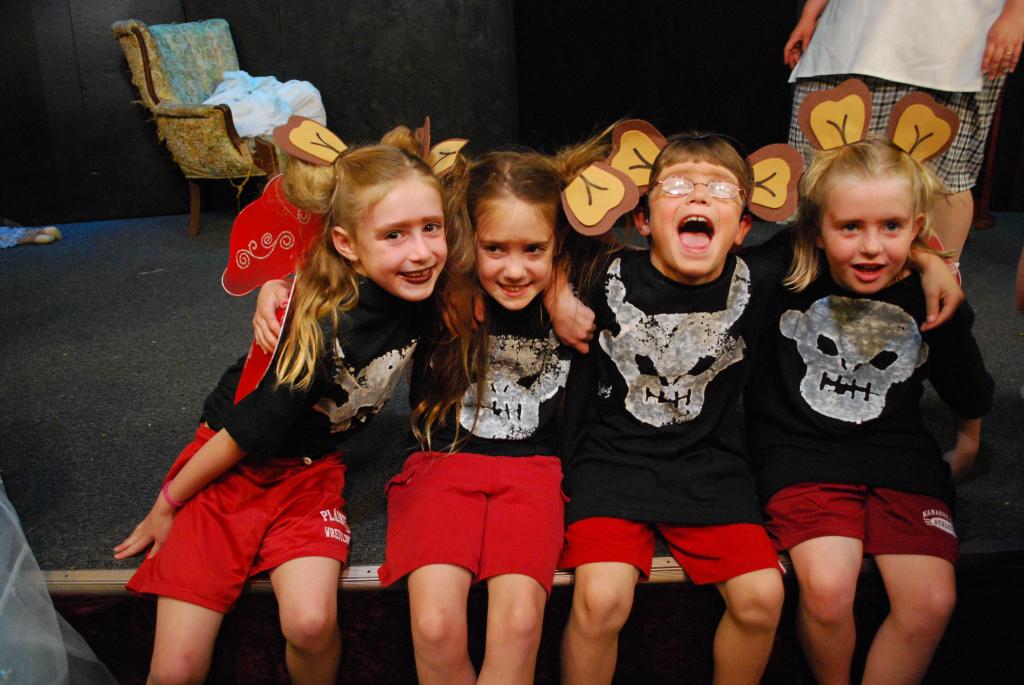 Past Shows of Ecstatic Theatrics

and

Past shows of The Firehouse Theater




My History: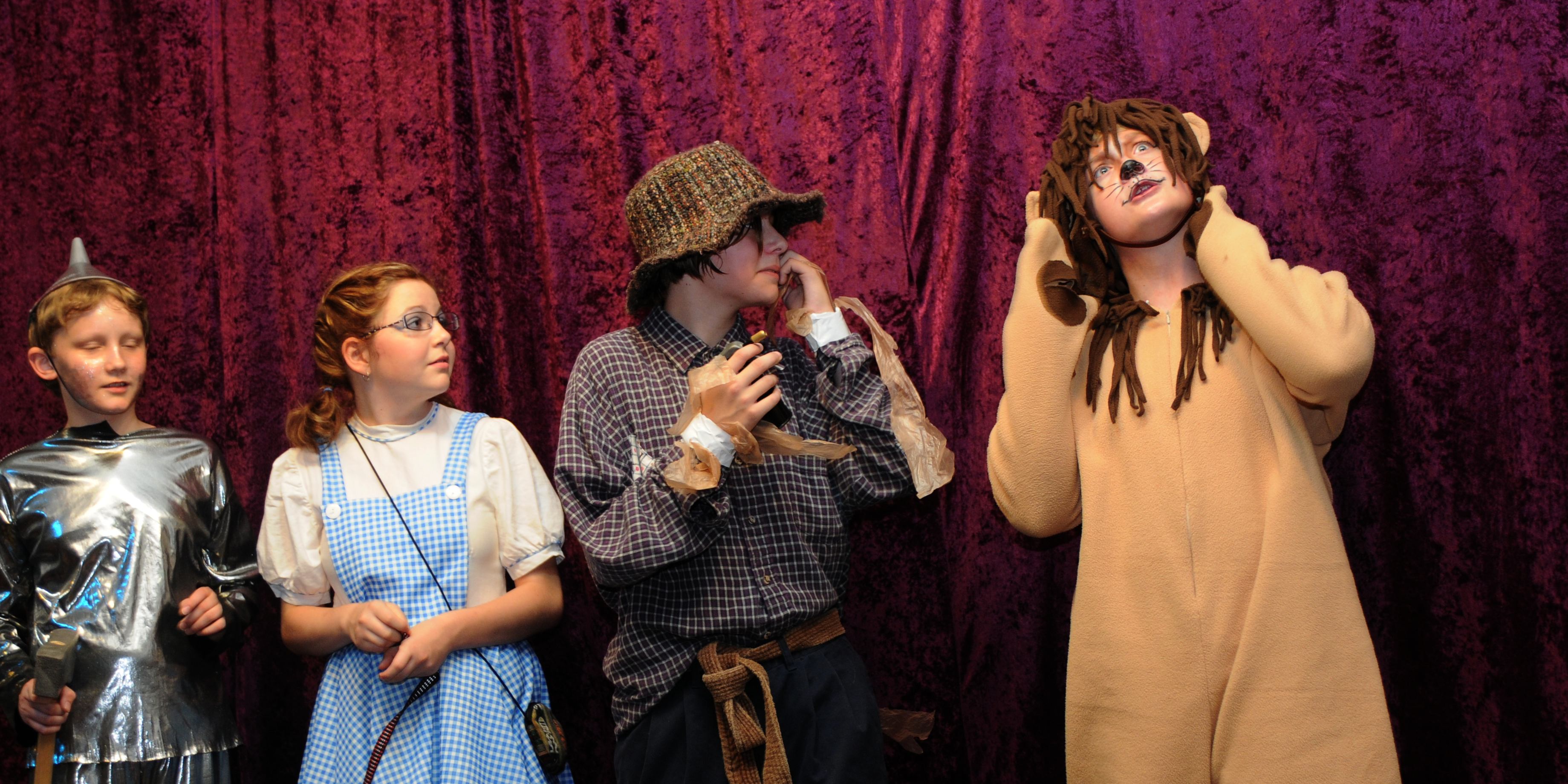 Before starting Ecstatic Theatrics, I ran the Firehouse Theater in Fort Wayne for 3.5 years, producing 78 shows/305 performances, until closing Feb. 2010. Since then I produced "Don't Look in the Lake" at Fright Night 2011, "The New Wizard of Oz Musical" at the University of St. Francis and the Main Library auditorium, "Harry Potter and the Obnoxious Voice ~ the sssPOOF!" at Franke Park, and a Christmas show at the Main Library in 2012.
In 2013, I did "Slipperzzzz! Cobb and the 12 Dancing Princesses" at Cinema Center.
In 2014, I produced three plays at the Red Barn Theater in Tucson, AZ: "The New Musical Wizard of Oz", "You Don't Bring Me Flowers Anymore" and workshopped a new science fiction script.
In 2017 I discovered an unused stage at TekVenture's new location in the old River City nightclub. I cleaned it up, installed a curtain & pulley system, lighting, scenery and stairs up to the stage. Their workshops in wood, metal, welding, electricity and sewing are perfect for a live theater. In October 2017 we performed "Harry Potter and the Obnoxious Voice" with new scenes for a Bellatrix subplot, and have continued performing there since. See details at HISTORY.

*QUESTIONS? -- CONTACT Jeannette Jaquish at 260 484-5946, or 260 750-9013, or at ecstatictheatrics@yahoo.com.

-=-=-=-=-=-=-=-=-=-=-=- TESTING PAYPAL BUTTON: Buy this Thing, $4

-------------------------------------------
=================================================
See Jeannette Jaquish's scripts at www.theaterfunscripts.com.