''The Twistful Meadow''
outside of TekVenture, in Fort Wayne, Indiana
Opening October 17 or 22, 2021
Creating a perennial outdoor nature-theater-fantasy and adventure playland in Fort Wayne, IN.
Creating a modular, changeable space to put on all kinds of events.
Building almost everything out of the natural and recycled materials.
Creating lots of character parts for local actors. Offering healthy sunny outdoor entertainment.
Using volunteers for construction, operations, character actors, and maintenance as much as possible.
Creative, logical problem-solving fun activities.
Community garden and native seeds planted, educational challenges and a skill test playground.
Auditions for kids and adults.
The Maze
Where the Wild Things Play playground
Back to Ecstatic Theatrics
How Volunteers will Make the Twistful Meadow
TekVenture.org Maker Space in Fort Wayne, Indiana
Facebook Twistful Meadow Designs
Giant Puppets and Costumed Characters

(c) 2020, 2021 Jeannette Jaquish
ecstatictheatrics@yahoo.com
260 750-9013

1550 Griffin St., FW 46803

~*~
Outdoor Theatrical Fantasy and Science Nature Park Coming to Fort Wayne

A Maze with giant puppets, Costumed Character Tours and more are being formed the meadow north of the TekVenture building.
I am Jeannette Jaquish, Keeper of the Stage at TekVenture. I am researching adventure playgrounds and interactive theater and STEAM hands-on projects as I design Twistful Meadows. I have begun mowing the maze, festival flat, tour trek, and rounding up helpers.
NIPSCO'S NiSource Charitable Foundation has granted us money for native seeds, fruit trees, licensed contractors and food for volunteers!

INSPIRED by THE VALLEY OF THE MOON in TUCSON, ARIZONA
In Tucson, where I am from, there is a whimsical place called The Valley of the Moon, begun in 1932 by George Phar Legler who, using cement and rocks, wood and glass, built fantasy castles, bridges, theaters, benches and creatures along a winding trail. The man is a Tucson legend and the Moon's fairy tale and Halloween trails and interactive characters are wildly popular.


--- THE ABOVE ARE PHOTOS OF VALLEY OF THE MOON IN TUCSON, AZ.

I CAN DO A SIMILAR THING HERE USING VOLUNTEERS & SCRAP.

I have designed and staged many fun, quirky, suspenseful, and sneakily educational events, and the meadow at TekVenture is a perfect place to do an outdoor version.
Constructions outside can be built inside TekVenture's workshops.
Our maker space members really get into applying their industrial skills and power tools on big projects.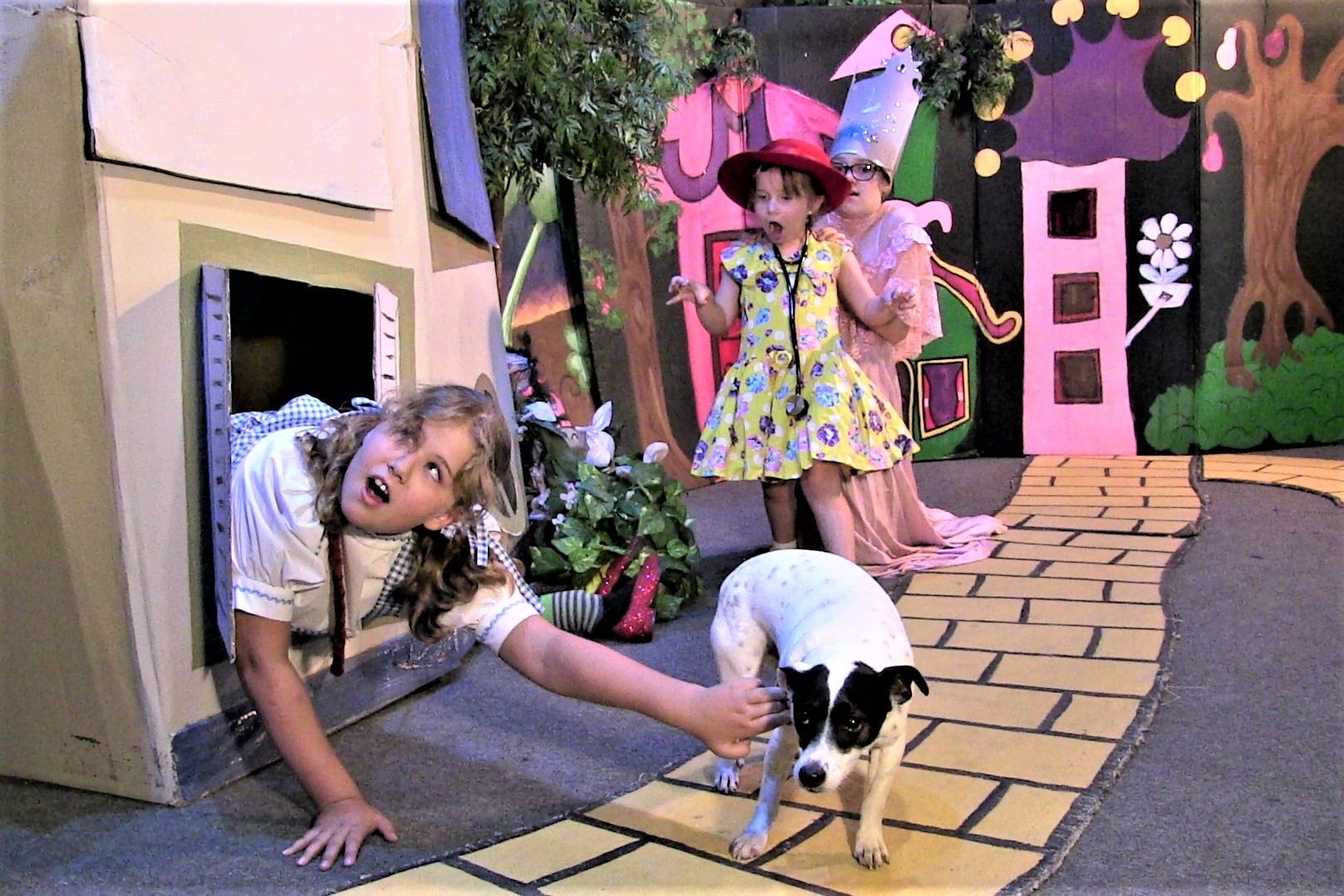 Inside the TekVenture building, I adapted the old River City band platform and added a pulley-controlled stage curtain, a lighting grid and controls, modular scenery and two stairs to turn it into a theatrical stage. With local actors, I performed six scripts I have written, including an adaptation of The Wizard of Oz and a Harry Potter parody.

I have written over 40 theater scripts and directed live theater for 25 years --Theater Scripts website. I ran the Firehouse Theater in Fort Wayne, 2006-2010 doing 78 different shows and events and 305 performances. In the 1990's I produced a science and math game show at Access Tucson.
Other TekVenture members have experience designing haunted houses, running businesses, home construction, auto mechanics, electronics, electrical wiring, and handling the public. They can advise me, and might help.
In March of 2020, NIPSCO's environmental grants NiSource program gave the Twistful Meadow project money for seed, trees, materials, a contrator's pay, and food for volunteers.


THE MEADOW HAS A LOT TO OFFER
The meadow is a good sized healthy piece of land, bounded on two sides by the Maumee River and its tree-lined shore. It has critters and wildflowers. It has a large parking lot and the TekVenture wheelchair-accessible building with restrooms and a snackbar and room for indoor activities. Branches trimmed from the trees near the river can be stuck in the ground for framing pathways and decorating.

Fort Wayne is re-discovering its rivers and the meadow shore has spots to construct a dock for launching canoes or to sit and watch the river. Our proximity will get us into the action of downtown events like Three Rivers Festival.

In 2018, for a TekVenture art fair, I mowed a maze in the meadow plus an open area for vendors and an outdoor stage under a tent, shown in the photo. A grass maze is not difficult to create. The secret is to mow the correct path first and then go back and add the dead ends.
This maze was too big; though it left a lot of empty space, it still took over an hour to walk even if you knew the way. A better version would have optional exits creating simple, medium and advanced mazes. Even then, there is plenty of room in the meadow for additional activity areas.

PROPOSED LAYOUT for The Twistful Meadow
-- The Festival Flat -- A mown area for festival type events, fireworks watching, sports, and concerts, plus vendor space. The focus would be a simple wooden stage of treated wood, decorated with curtains and streamers on poles, assembled with bolts for easy disassembly and stacked storage, or moved inside to be audience platforms for TekVenture's indoor theater.


-- The Fantasy Tour Trek -- Curving around the festival flat is the winding path for Fantasy Character Tours. The Character guide leads visitors to performance spots where characters interact, perform and challenge. For instance, Alice would lead us to visit The Mad Hatter and the Tea Party; the Duchess tossing a crying baby with her pepper-shaking Cook and the Cheshire Cat; Tweedle Dum and Tweedle Dee; The Red Queen, the Whiny King and her Card Guards.
Pinocchio, Harry Potter, Peter Pan, Christopher Robin, and a Halloween Ghoul could lead such tours. Performance spots might have magicians, riddlers, puppets, combatants or storytellers. For a real adrenaline surge, video-game-style live-action games along this trail would have scary characters and Giant Parade Puppets (that you can help make) popping out to do battle with our trekkers who we have armed with squirt guns, laser tag rifles, or foam rubber clubs.

--
The Amazing Nature Maze -- A mowed maze, with optional escape paths thru marked arches or gates create a simple, medium, difficult levels and Labyrinth of Doom ending. (The walls will be from 9 to 36 inches high so you can escape an emergency by just tromping out.) The paths form geometrical and whimsical designs, there are a few open areas for refreshment and rest or to investigate a display of natural plants, a garden of cherry tomatoes they can pick and eat, a ground hog den, Munchkinland, playground, hobbit home, historical marker or puzzles to gather tokens at. Like the shorter Twisting Trek, the Maze can be a pseudo battle ground or pursuit game. Tall native flowers are selected for planting, to hide the different areas and outline the paths and add beauty. See more ideas.


-- Where the Wild Things Play - a playground with play structures and mechanisms starting simply for toddlers and increasing in complexity. The middle section is a skill learning and testing, passing will get you into the climbing swinging advanced section. Lots of natural materials like logs and earth will be used as well as manufactured materials. Construction of support structures will be guided by a licensed contractor.

-- The Bicycle Trail - A simple winding mowed trail that frames the area. Hills could be added. An easy, exciting ride that encourages people to come on their bikes.
OR a road for The Fear Factory for a haunted jeep ride, along the tree line.



PLEASE VOLUNTEER TO HELP WITH THIS EXCITING PROJECT!

Email: ecstatictheatrics@yahoo.com