April 2012


Ecstatic Theatrics and The Fort Wayne Dance Collective
and the Parkour Brotherhood of FreeRunners
present


ENCORE PERFORMANCES!
Saturday, April 28, 7pm
Sunday, April 29, 2pm

LOCATION: University of St. Francis, North Campus Theater on Spring Street
WARNING! Spring Street is blocked off just east of the campus right now.



ALL ABOUT The New Musical Wizard of Oz!




This very funny action-packed show opens with a startling Kansas scene showing Dorothy's impulsive lovable personality that keeps getting her into trouble. A persistent vacuum cleaner salesman vexes Auntie Em and then tangles with a flying broom, then later tricks Dorothy with a false story that keeps her from making a terrible decision.

The tornado races through the audience as well as Kansas like a three ring circus gone wild, plopping Dorothy into a terrified Munchkinland. Soon she meets the exuberant Scarecrow, earnest Tin Man and cringing Lion who dedicate themselves to protecting this little girl in a strange land.


This production cleverly weaves long beloved folk tunes and classical music with new music, adding beauty and excitement (and lowering the ticket price) of this newly revised production. Beautiful old songs like "Simple Melody/Musical Demon" by Irving Berlin, and "Grandfather's Clock" by Henry Clay Work are rescued from slipping into an undeserved oblivion by being adapted into this play which is destined to gain popularity. Many of these are duets and it has been a real pleasure watching the younger actors' eyes switching back and forth from singer to singer, each singing a different tune and lyrics, in rehearsal. Orchestral classical music as well has found new life in this script driving the Tornado scene, Flying Monkey Attack, and the Great and Terrible Oz's Presentation.

The New Musical Wizard of Oz
adapted by Jeannette Jaquish
from the classic by L. Frank Baum

Directed by Brian Stoner, Karima Davis and Jeannette Jaquish

CAST
DOROTHY - Alia Davis, 11
WITCH - Emma Norder, 13
AUNTIE EM - Brittney Bressler
UNCLE HENRY - Brian Stoner
TOTO - Bonnie, Alia Davis's Dog
WIZARD - Ary Sakri, 13
GLINDA - Michelle Bonahoom, 15
SCARECROW - Maura Furry, 12
TIN MAN - Hayli Moon, 12
LION - Brandon Johnson, 15

MUNCHKIN-MONKEYS & other parts
Emma St. Peters, 11 - Bagel Monkey
Elaina Blacketor, 7 - Forgotten Warning, Shark
Grace Sarrazin, 10 - Sleepy Monkey
Ross Blacketor- History Pageant Director
Dayani Guevara, 9 - Three Guesses, Little Witch
Amber Antonios - Mopping Monkey
Autumn Byer, 7 - Gives Autographs
Carolann Byer, 10 - Little Witch

EMERALD CITIZENS/WINKY GUARDS/STAGEHANDS
Zephyr Jaquish, 12 - Warthog, Lousy Munchkin
Ross Blacketor - Lousy Dorothy
Matt Bonahoom - Lousy Glinda
Caleb Rutz, 9 - Lousy Toto
Samantha Vega, 15 - Bubbler
Jeannette Jaquish - Lousy Witch, Apple Tree


o-o-o-o-o-o-o-o-o-o-o-o-o-o-o-o-o-o-o-o-o-o-o-o

-=-=-=-=-=-=-=-=-=-=-=-=-=-=-=-=-=-=-=-
ECSTATIC THEATRIC struts its giant puppet stuff at the St. Patrick's Day Parade at Deer Park Lodge, March 17, 2013!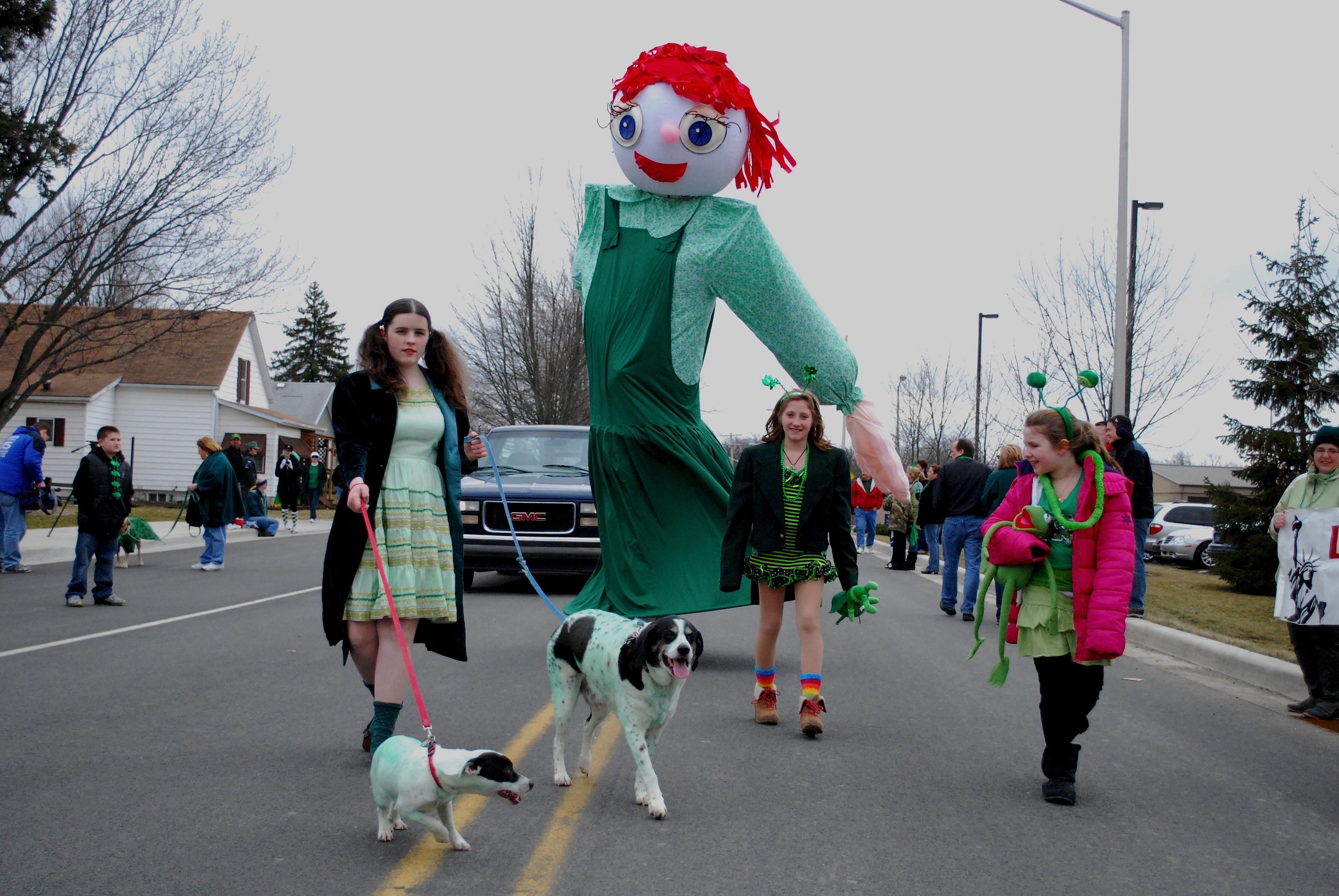 Actresses Autumn and Carolann Byer joined Zephyr Jaquish with green dogs Spot and Amphetrious. Tom Jaquish is inside giant puppet girl. Jeannette Jaquish also marched and shot this photo.




-o-o-o-o-o-o-o-o-o-
Since it began in 2011, Ecstatic Theatrics produced:
-- "Don't Look in the Lake" at Fright Night, Oct 2011
-- "Wizard of Oz" at Library Main Stage March 1, 2 & 4, 2012
-- "Wiz" again at St. Francis South Stage April 28 & 29, 2012
-- "Harry Potter and the Obnoxious Voice ~ the sssPOOF!" at outdoor bleachers at Franke Park, August 2012.
-- "SNAFU in Santa's Workshop" and "Hansel & Gretel and the Falling Christmas Elves" at Cinema Center the Main Library in December 2012.

Four shows in 12 months, just like Youtheatre.

Absurdly Ambitious Next Project?
Wizard of Oz on Location:
I am working on the screen play of a film-style video of "Wizard of Oz" to shoot spring-summer-early fall 2014?, shot in the incredibly beautiful and potentially creepy Franke Park woods, plus other locations for Kansas, Emerald City, Wizard's Throne Room and Witch's Castle.

The script, directing and rehearsals are hard work, but no problem. Been there done that. It is the realistic sets (cardboard scenery won't do it ), and actual buildings that will require great imagination and hundreds of man-hours to attain. A believable Munchkinland in the woods will require days to create, then we carry it home and then back to set up for the shoot.
I also need a competent technical and support crew such assistant directors, audio & camera operators, costumers, set builders, organizers, scouts and so on.

I could delay this project and do it in 2014, but I would like to do it this year. I have a history of not giving myself enough time to do a project right -- everything takes 3 to 5 times as long as I expect, but usually I was doing most of the work. If I had competent help, if I could hand a sketch to someone and a pile of materials and they put it together, if I told a group of actors to come back on Friday memorized and they did, if people were out scouting the indoor locations for me, well, it could work.

I am working on a shooting script and if I can get everything figured out: script, camera shots and locations, effects such as flying monkeys and witch, Wizard's giant head, castle corridors, huge Emerald City on a hill, Glinda appearing, TORNADO!!!! -- If I can figure out how we'll do EVERYTHING, then it will be a go. Because if one thing doesn't work, the whole thing can't be finished.

I know I can get actors. What I need assurance of is a technical video and theatrical crew, skilled, dependable, available. I will be able to pay the crew, because this is intended to be a mass distributed production. Maybe not on movie screens but DVD distribution. I write good scripts. The rest is the hard part.

If you are interested in helping, please email me at ecstatictheatrics@yahoo.com or call me at 260 750-9013.

Thanks! -- Jeannette Jaquish

-=-=-=-=-=-=-=-=-=-=-=-=-=-=-=-=-=-=-

Our Most Recent Show:

Dec. 15, 20* & 29, 2012!

Two Modern Children's Holiday Classics!


SNAFU in Santa's Workshop!
and
Hansel and Gretel


and the

Falling Christmas Elves!




* The dopey duo of Hansel & Gretel drive Santa's Elves to madness and send their parents into The Awful Offspring Protection Program. Only the Narrator knows a happy ending is in store!
-=-=-=-=-=-=-=-=




*SNAFU in Santa's Workshop: Will Quigley's invention save Christmas even after it is short circuited by hot cocoa??? It's the Raucous Reindeer to the Rescue -- so you'd better RUN!

Shows $4:
Dec 15: Cinema Center off Clay, between Berry and Main: 11 am
Dec 20: Main Library Meeting Room A: 7 pm --*Special Needs get in FREE!
Dec. 29: Cinema Center: 11 am


CAST:
HANSEL & GRETEL and the FALLING CHRISTMAS ELVES
READER - Michelle Bonahoom
HANSEL - Walker Andrews
GRETEL - Sona Andrews
STEPMOM - Brenna Watson
FATHER - Brandon Johnson
WITCH - Brittney Bressler -Dec 15, 29. Jeannette Jaquish -Dec 20.

ELF 1 – Bossy - Nina Robinson
ELF 2 - Smelly - Scott Sarrazin
ELF 3- Sassy - Grace Sarrazin
ELF 4 - Clumsy - Ani Andrews
ELF 5 - Narcolepty - Emily Dini
ELF 6 - Whiny - Emma St. Peters
ELF 7- SNEEZY – Emma Robinson

FAIRY DOG MOTHER - Amber Antonios
FAIRY FROG MOTHER - Megan Antonios

------------------------------------------

SNAFU in SANTA'S WORKSHOP
Reader - Jeannette Jaquish
Elves: --1 Scooter - bossy- Amber Antonios
--2 Twinkle - cutsey- Megan Antonios
--3 Quigley - nerdy- Sona Andrews
--4 Snicker - sarcastic- Ani Andrews
Rudolph - Grace Sarrazin
Reindeer 1 – Dasher - Scott Sarrazin
Reindeer 2 – Dancer -Emma St. Peters
Reindeer 3 – Prancer -Nina Robinson

Inside Duplicator: Toy Thrower - Walker Andrews
Inside Duplicator: Box Shaker - Emily Dini

Sleepy Pajama Child -Walker Andrews
Excited Pajama Child -Emily Dini

Backstage Manager - Brittney Bressler
Smoke Machine - Brenna Watson
Duplicator FX Sounds- Michelle Bonahoom
Duplicator FX Lights - Brandon Johnson
Voice of Mom - Michelle Bonahoom
Voice of Dad - Brandon Johnson
Set Changers - Brenna, Emma R, Michelle, Brittney B/

=-=======================================

Ecstatic Theatrics began in October 2011, when I craved to do live theater again. The Firehouse Theater had closed in 2010.

I and some of my old Firehouse kid actors were performing "Don't Look in the Lake" for Fright Night at the outdoor stage of the Main Library, on a Saturday, the week before Halloween 2011. I scheduled an organizing meeting to start Ecstatic Theatrics. The notice ran in Whatzup? and the News-Sentinel Ticket, that I know of. Only one other person came besides the kids rehearsing and two parents; that one person was also a past actor of mine. But they were a crackin' good group of actors and very enthusiastic, so why not? I'd never do anything if I waited for support.

Nov. 6 I traveled to Jackson, Ohio to see the Jackson Theater perform my Harry Potter parody, with three new scenes that I had written but never got to direct or see performed. They did a great job and I was happy to see my three new scenes blended in fine. The actors and members of the audience greeted me with affection and praise, someone paid for a hotel room and dinner for me. It was amazing. They had full houses and I wanted so much to produce it here. When we first performed the script in Fort Wayne, the first performance had only family of the actors, like most of the Firehouse productions.
I videotaped the Jackson show, edited it, and played it on my "Firehouse Presents" Access Fort Wayne TV show.

Nov. 29, 2011
I finally got this new ecstatic-theatrics website up.

End of December 2011
Did auditions at the Main Library for my Wizard of Oz adaption. Got a great cast.

o-o-o-o-o-o-o-o-o-o-o-o-o-o-o-o-o-o-o-o-o-o-o-o-o-o



o-o-o-o-o-o-o-o-o-o-o-o-o-o-o

------To see our past shows, please go to History!
See Jeannette's old Firehouse Theater website.

=-o=-o=-o=-o=-o=-o=-o=-o=-o=-o=-o=-o=-o=-o=-o=-




VOLUNTEERS MAKE THEATER POSSIBLE!

CREW & HELPER Positions:
Assistant Directors - take on a scene or group of actors in rehearsals, help decisions and work of the production
Lighting Tech - learn to run the Library stage light board
Audio Tech - learn to run the Library audio board
Stage Crafters - set up scenery and figure out set changes
Helpers - at auditions, rehearsals, backstage during shows - to fit your schedule
Publicity Helpers - take flyers to school, church, school
- Call a few businesses to offer discounts for the employees
Tech Helpers
- Making scenery and props, scouting purchases, organizing storage
Costume Helpers
- Measure actors, help actors try on costumes, assemble costume sets and label them and their storage area
- Give opinion on costume design
-Sew if you have the skill
Volunteer Organizer
- Take each volunteer's availability schedule and schedule them into the production. Send the schedule to volunteers.


CLICK to VOLUNTEER!

~*~

Filming Wizard of Oz on Location in 2013!
Postponed one year to get everything ready.





Munchkin, Scarecrow, Tin Man & Lion scenes will be shot
in the beautiful, spooky
Franke Park Woods.

Scenes in Kansas, Witch's Castle and Wizard's Throne Room to be shot at other locations.
Filming over the Spring, Summer & early Fall of 2013.

Auditions beginning of April 2013.
We need volunteers to help. Also hiring underpaid crew.
Please call Jeannette at 260 484-5946 or email ecstatictheatrics@yahoo.com.


Playwright Jeannette Jaquish sells her scripts at www.theaterfunscripts.com

=-o=-o=-o=-o=-o=-o=-o=-o=-o=-o=-o=-o=-o=-o=-o=-